Functional genomics of the yeast DNA-damage response
Published: 07 September 2006
Large-scale sequencing projects in the 1990s ushered in a series of genome-wide studies aimed at addressing gene function. Termed 'functional genomics' or in some contexts 'systems biology' [1], a decade of work on the budding yeast Saccharomyces cerevisiae has resulted in a body of knowledge describing gene-expression patterns, gene-disruption phenotypes, and protein-protein and protein-DNA interactions. While certain levels of experimental error are associated with these data, analyses have shown that combinations of the individual datasets result in gene function predictors of considerable power [2]. Two recent studies [3, 4] have taken these observations into account and describe work aimed at further characterizing the yeast response to DNA damage by using different and complementary experimental platforms.
The DNA-damage response has been a target of high-throughput studies because of its complexity as well as its relevance to human cancer. Many kinds of damage occur to DNA during growth, whether in the presence or absence of DNA-damaging agents (Figure
1
). Invariably, damaged DNA that is processed to single-stranded DNA elicits a checkpoint response that stalls the cell cycle, allowing time for repair. Distinct types of DNA damage, such as mismatched bases and double-strand breaks, are detected by proteins or protein complexes (for example, MutS proteins and the Ku heterodimer), and are processed to expose single-stranded DNA. The presence of damage is signaled through specific phosphorylation pathways, such as those involving the yeast protein kinases Mec1 and Dun1, that eventually alter the activity of transcription factors (for example, Crt1) that effect the expression of a large number of proteins that rebuild and repair the damaged DNA (for example, Rad51). No single current technology can interrogate these different organizational levels and so several approaches have been used.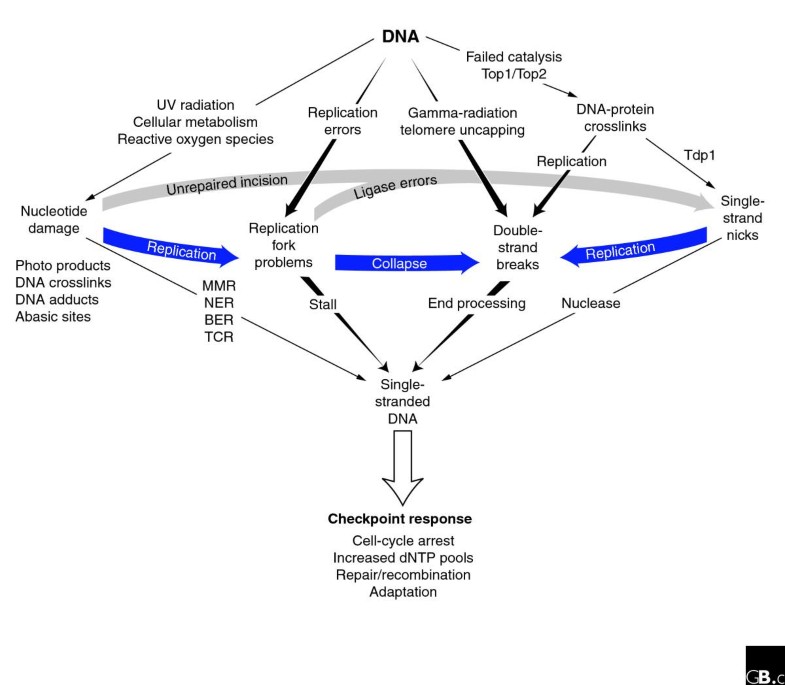 (1)
Conway Institute, University College Dublin, Belfield, Dublin 4, Ireland
(2)
Department of Genetics and Development, Columbia University Medical Center, New York, NY 10032, USA
(3)
Department of Cellular and Molecular Pharmacology, University of California-San Francisco, 1700 4th Street, San Francisco, CA 94143, USA
(4)
California Institute for Quantitative Biomedical Research, University of California-San Francisco, 1700 4th Street, San Francisco, CA 94143, USA
© BioMed Central Ltd 2006