The dynamic proteome of Lyme disease Borrelia
We have all experienced it: the 'deer in the headlights' sensation of dumbfounded wonderment and awe when confronted with our first genome sequence. This is a particularly likely response to the genome of the spirochete Borrelia burgdorferi and its relatives - spiral bacteria that are transmitted by deer ticks of the Ixodes ricinus group and that cause the chronic disease Lyme borreliosis in humans and other animals. Although there were previous indications of its unusual characteristics, no one anticipated that the 1.5 megabase genome of B. burgdorferi would contain an odd mixture of approximately 12 linear and 9 circular plasmids, as well as a 0.9 megabase linear chromosome [1, 2]. The plasmids, which range from 5 to 56 kilobases, are present consistently in the strains examined so far and contain genes required for the spirochete's life cycle; these replicons thus could be considered 'mini-chromosomes', although the term plasmids is typically used for simplicity. The 833 predicted plasmid-encoded open reading frames (ORFs) include 454 hypothetical genes, many of which are members of 107 paralogous families of unknown function. The plasmids are also rife with pseudogenes, leading to the conclusion that the Lyme disease spirochete genome is 'in flux': that is, it is actively evolving [2]. The unique properties of the Borrelia proteome are now starting to be revealed with two recent studies of global protein expression. In the first approach, Jacobs et al. [3] compared the protein profiles of three strains of B. burgdorferi, while in the second, Nowalk et al. [4] examined the proteins present in the soluble and membrane-associated fractions of the bacterium.
Lyme disease is a chronic disease marked by skin lesions, debilitating neurologic symptoms and arthritis.
B. burgdorferi
is the predominant cause of human Lyme borreliosis in North America, whereas
B. burgdorferi
and two related
Borrelia
species,
B. garinii
and
B. afzelii
, cause disease in Eurasia. These obligate pathogens have a precarious life cycle in which they alternate between two distinct environments: the tick intestinal tract (midgut) and mammalian (or, in some instances, avian) tissue (Figure
1
). In humans, Lyme disease
Borrelia
causes a local lesion called erythema migrans at the site of the tick bite and then readily disseminates through the bloodstream to other tissues, setting up an infection that can last for months to years. The bacteria can also persist in ticks for years, but they increase greatly in numbers and migrate to the salivary glands at the time of feeding. Gene expression at the RNA level has been studied using both array and quantitative reverse transcriptase (RT)-PCR approaches, and dramatic changes in gene expression on transmission of the pathogen from ticks to humans have been found (Figure
1
). For example, transcript levels for the outer surface lipoprotein OspC can increase 30- to 120-fold in 'mammalian tissue-like' conditions compared with 'unfed tick-like' conditions, whereas OspA, another surface lipoprotein that binds to the tick midgut receptor TROSPA, thus enabling the bacterium to invade its tick host, is downregulated during transmission from tick to mammal [
5
–
8
]. Some of the regulatory pathways in this adaptive process have been identified, including a pathway involving the transcription initiation factors RpoN and RpoS. Temperature, dissolved oxygen, and pH play a role in gene regulation, as well as other as-yet unidentified host factors.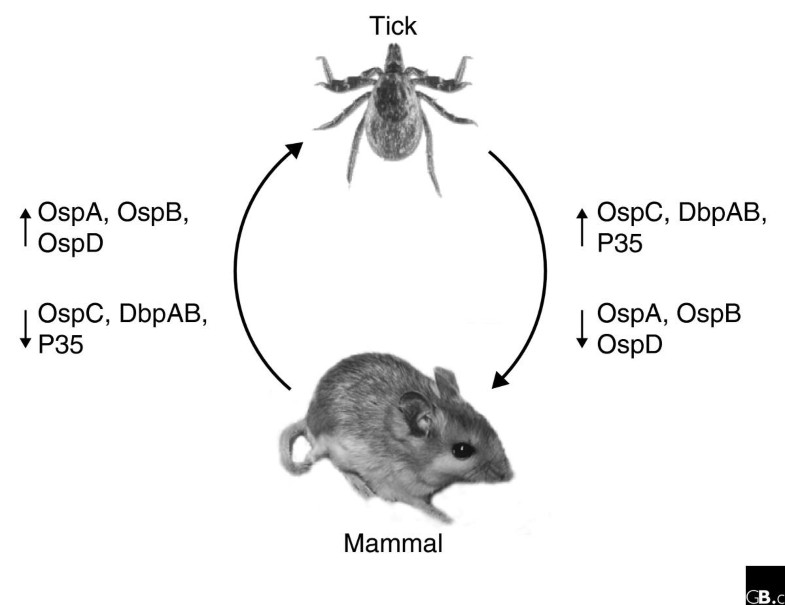 It has been difficult to examine protein expression directly during mammalian or tick infection, as only a small number of spirochetes are present during most phases of infection, limiting the utility of conventional methods. A model system in which B. burgdorferi cultures are 'incubated' within dialysis tubing in the abdomens of rabbits or rats has been used extensively to study adaptation to the mammalian environment [9]. This set-up excludes contact with host cells and extracellular matrix, however, and some aspects of adaptation (for example, recombination in the antigenic variation gene vlsE, which encodes a variable lipoprotein) do not occur under these conditions. A novel approach to the direct study of bacterial protein expression in infected tissues took advantage of the fact that lipoproteins, prominent in B. burgdorferi and other spirochetes, are selectively partitioned to the detergent phase following solubilization in Triton X-114 [10]. By this means, VlsE, OspC, and the decorin-binding adhesin DbpA were found to be expressed at high levels in mouse joints and dermal tissue, and OspC and DbpA, but not VlsE, were found in heart tissue. These results suggest that protein expression varies between tissues; this pattern may be related to tissue tropism of the bacteria.
Global analysis of protein expression in Lyme disease Borrelia is now under way and will be useful not only for examining changes in gene expression, but also in understanding the biological importance of the multiple paralogous gene families and other unique properties of the predicted proteome. In one approach, Jacobs et al. [3] compared the protein profiles of three strains of B. burgdorferi using trypsin cleavage of whole-organism preparations followed by a two-step liquid chromatography separation of fragments and tandem mass spectrometry (MS/MS). In a second approach, Nowalk et al. [4] used two-dimensional gel electrophoresis with tryptic digestion and MS analysis of individual spots to look at the proteins in the soluble and particulate fractions of B burgdorferi strain B31.
(1)
Departments of Pathology and Laboratory Medicine and Microbiology and Molecular Genetics, University of Texas Medical School, Houston, TX 77225-0708, USA
© BioMed Central Ltd 2006