Multiple independent evolutionary solutions to core histone gene regulation
Received: 8 August 2006
Accepted: 21 December 2006
Published: 21 December 2006
Abstract
Background
Core histone genes are periodically expressed along the cell cycle and peak during S phase. Core histone gene expression is deeply evolutionarily conserved from the yeast Saccharomyces cerevisiae to human.
Results
We evaluated the evolutionary dynamics of the specific regulatory mechanisms that give rise to the conserved histone regulatory phenotype. In contrast to the conservation of core histone gene expression patterns, the core histone regulatory machinery is highly divergent between species. There has been substantial evolutionary turnover of cis-regulatory sequence motifs along with the transcription factors that bind them. The regulatory mechanisms employed by members of the four core histone families are more similar within species than within gene families. The presence of species-specific histone regulatory mechanisms is opposite to what is seen at the protein sequence level. Core histone proteins are more similar within families, irrespective of their species of origin, than between families, which is consistent with the shared common ancestry of the members of individual histone families. Structure and sequence comparisons between histone families reveal that H2A and H2B form one related group whereas H3 and H4 form a distinct group, which is consistent with the nucleosome assembly dynamics.
Conclusion
The dissonance between the evolutionary conservation of the core histone gene regulatory phenotypes and the divergence of their regulatory mechanisms indicates a highly dynamic mode of regulatory evolution. This distinct mode of regulatory evolution is probably facilitated by a solution space for promoter sequences, in terms of functionally viable cis-regulatory sites, that is substantially greater than that of protein sequences.
Keywords
Hide Markov ModelAdditional Data FileCore HistoneHistone GeneHistone Family
Background
Core histone genes encode four families of proteins that package DNA into the nucleosome, which is the basic structural unit of eukaryotic chromosomes [1]. The four core histones are H2A, H2B, H3 and H4, and each nucleosome consists of 146 base-pairs (bp) of DNA wrapped around an octameric core containing two copies of each histone protein. Comparative studies of core histones have revealed that their sequences are among the most evolutionary conserved of all eukaryotic proteins [2]. For instance, the human H4 protein (NP_003539) is 92% identical to its yeast Saccharomyces cerevisiae ortholog (NP_014368) [3]. The high levels of core histone sequence conservation are thought to be due to severe structural constraints imposed by their assembly into the histone octamer [4] as well as the similar functional constraints across species associated with the compact binding of DNA [5].
Most of the packaging of genomic DNA by core histones occurs primarily during the S phase of the cell cycle, when DNA is being actively replicated; stoichiometrically appropriate levels of histone proteins are required to bind DNA immediately following replication [6]. As such, the expression of core histone genes is tightly regulated and peaks sharply during S phase [7]. Much like the histone sequences, this histone gene expression pattern is highly conserved among eukaryotes ranging from human to the yeasts Saccharomyces cerevisiae and Schizosaccharomyces pombe [8–13].
The mechanisms that underlie the cell cycle specific regulation of core histone genes have been intensively studied [
6
,
7
]. Although most of this work has focused on the regulation of transcription via the interaction of cis-regulatory elements and transcription factors, a number of studies have also addressed the role of post-transcriptional regulation of core histone synthesis. Here, we focus exclusively on the regulation of core histone gene expression at the transcriptional level. Numerous studies have characterized core histone cis-regulatory sites and their cognate transcription factors [
7
,
14
–
23
]. Sequence logos representing 14 experimentally verified cis-regulatory motifs, along with the names of the transcription factors that bind them, are shown in Figure
1
.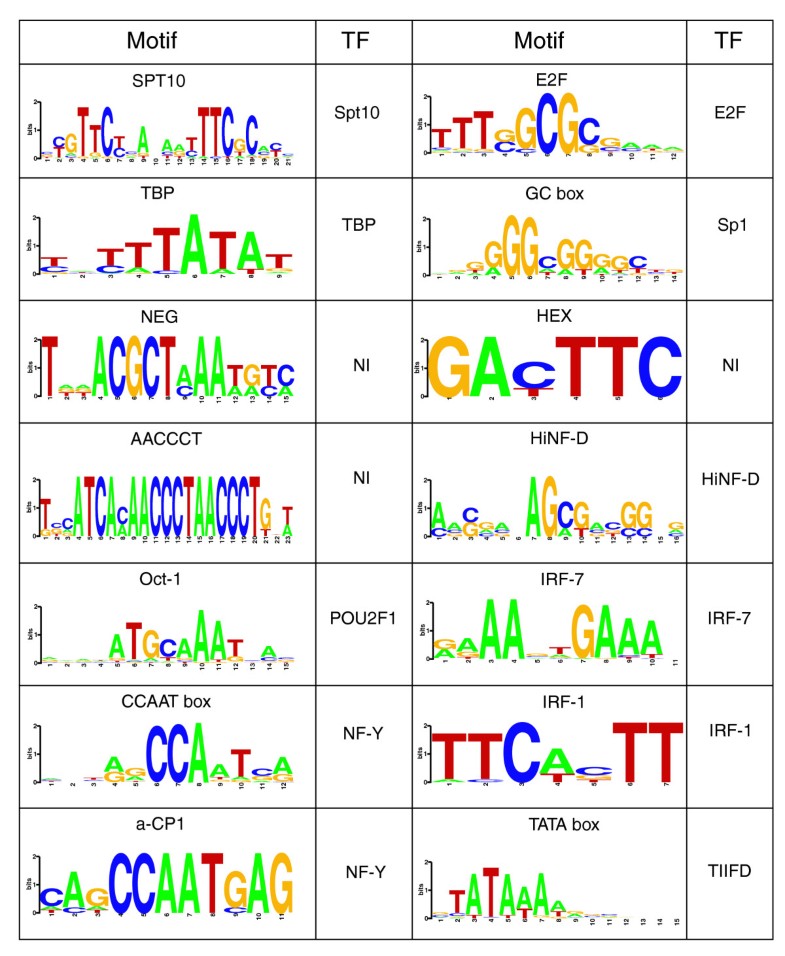 The studies that resulted in the characterization of these motifs and transcription factors have led to the elucidation of core histone gene regulation in model experimental systems such as S. cerevisiae. For example, the yeast transcription factor Spt10p was recently demonstrated to activate core histone gene expression [16]. Interestingly, the SPT10 gene was originally identified as a suppressor of Ty insertion mutations [24, 25] and as a global regulator of core promoter activity [26]. However, despite the fact that Spt10p affects the expression of hundreds of yeast genes, it specifically binds cis-regulatory sequences, referred to as upstream activating elements, which are found only in core histone gene promoters. Thus, the global regulatory properties of Spt10p are based solely on changes in levels of core histone gene expression. In support of this model of histone gene regulation, the DNA-binding domain of Spt10p was recently characterized and shown to mediate sequence-specific interaction with the core histone gene upstream activating element [27]. There are a number of such examples, from S. cerevisiae and other model systems, of efforts to characterize experimentally the mechanisms of core histone gene regulation. In addition, efforts are underway to investigate core histone promoters among different species computationally [28].
Despite the substantial body of knowledge on the regulation of core histone genes, little is known about the evolutionary dynamics that have given rise to these regulatory mechanisms. We present here an evolutionary analysis of core histone gene regulatory mechanisms. The emphasis of this work is placed on understanding the evolution of cis-regulatory sites along with their cognate transcription factors. We analyzed the phyletic distributions of 14 experimentally verified core histone cis-regulatory elements among 24 crown group eukaryotes. The evolution of core histone gene cis-regulatory sites and transcription factors is considered in light of core histone protein sequence and structure evolution. Despite the highly conserved core histone sequences and expression patterns, the mechanisms of histone gene regulation were found to be highly divergent and lineage specific. The implications of this dissonance with respect to the evolution of gene regulatory systems are explored.
Conclusion
We have demonstrated a striking dissonance between the deep evolutionary conservation of core histone regulatory phenotypes and the profound divergence of their regulatory mechanisms. Core histone genes exhibit similar cell cycle (S phase specific) expression patterns from the yeast S. cerevisiae to human (Figure 2). This regulatory conservation is consistent with the high levels of sequence conservation among core histone proteins. Nevertheless, the regulatory mechanisms that are used to achieve the conserved expression patterns of core histone genes are almost entirely lineage specific. The cis-trans machinery involved in core histone gene regulation has changed substantially between lineages through gain and loss of transcription factor proteins and their cognate binding sites. This suggests that, for families like the core histone genes, phylogenetic footprinting [39] may have limited utility for identifying functional regulatory elements across all but the most closely related species.
In addition to the divergence of cis sites and trans factors, a distinct level of post-transcriptional regulation of core histones emerged along the metazoan evolutionarily lineage [
40
]. Core histone gene 3'-untranslated regions encode a stem loop structure (Figure
9a
) that, when bound by protein, greatly increases mRNA stability. This mechanism is responsible for 70% of the upregulation of core histones in S phase. The sequence that forms the stem loop is conserved across metazoans (Figure
9b
). The emergence of this mechanism may have allowed for some of the turnover of the cis-trans regulatory machinery among metazoan genomes subsequent to their divergence from the yeast evolutionary lineage.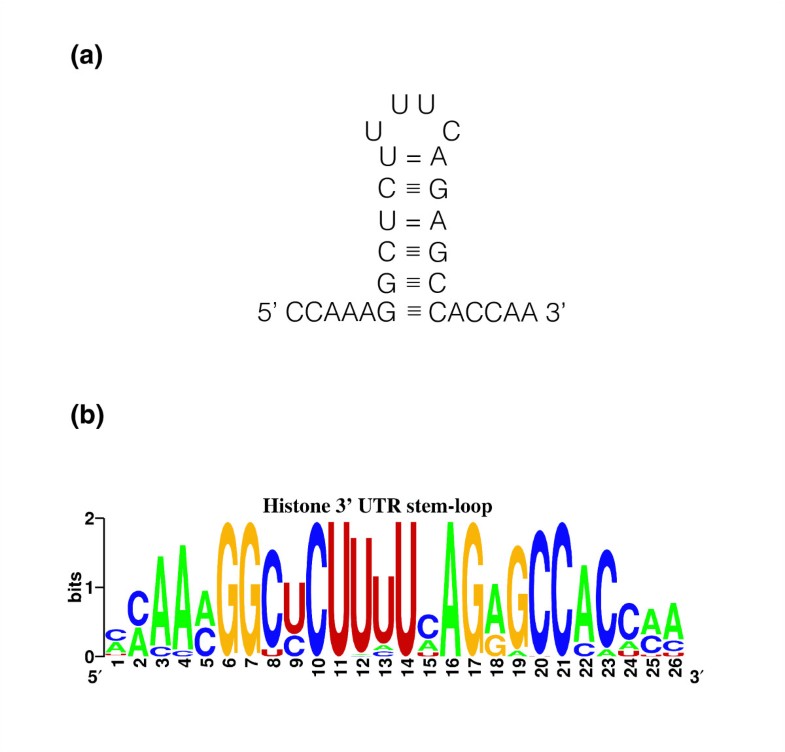 There are additional regulatory elements that may help to achieve coordinated regulation of core histone genes in metazoans. For instance, a sequence found in core histone gene encoding regions is important for their expression and may serve as an internal promoter element common to the mammalian lineage [41–43]. In addition, the transcription factor NPAT has been implicated as a global regulator of core histone gene expression among metazoans even though it does not seem to bind any DNA sequence directly [44–46]. This may provide yet another global lineage specific regulatory mechanism that distinguishes the metazoan mode of core histone gene regulation from that of yeast.
Even though the four core histone gene families (H2A, H2B, H3, and H4) diverged before the species studied here, the regulatory mechanisms are more similar for different family members within species than for the same family members between species (Figures 4 and 5). Thus, there is a kind of concerted regulatory evolution operating between members of different core histone gene families. This pattern stands in stark contrast to the pattern of core histone sequence evolution, whereby members of the same family are more similar to one another across species reflecting their more recent common ancestry (Figure 8). This suggests that very different modes of evolution exist for histone gene regulation versus protein sequence and structure. The solution space for promoter sequence evolution (the space of functionally viable cis-regulatory binding site sequences) may be far more vast than that of core histone protein sequences. This results in a much more dynamic evolutionary paradigm for promoter sequences and the transcription factors proteins that bind them. Purifying selection may be less efficacious at eliminating variants of cis-regulatory sites because a number of sequence variants may bind transcription factors with similar affinities. In addition, new cis-regulatory sites, which are short and degenerate by nature, may arise relatively quickly through mutation along the promoter. It is possible that these new variants can lead to an exploration of expression space and rapid fixation of adaptive variants by positive selection. Adaptive expression changes of this type may be facilitated by the emergence of intermediate redundant regulatory programs that maintain the ancestral expression pattern and function while simultaneously allowing for selective testing of novel expression patterns [47]. Such an evolutionary mode, with less pronounced purifying and more prominent adaptive selection, could explain the observation that novel cis-trans combinations are subject to substantial turnover and may be regularly reinvented among evolutionary lineages. In addition, the inherent evolutionary flexibility of regulatory systems may allow for coordinated within-species changes that respond to epistatic pressure from other regulatory pathways in the same lineage that share transcription factors.
It is currently unclear whether the turnover of regulatory mechanisms, in the face of conserved expression patterns, is unique to core histones or also occurs for other gene families. Some studies on the evolution of gene regulation do report evidence of conserved regulatory sequences and expression patterns [47, 48], whereas others indicate that gene regulatory networks do in fact diverge rapidly [49–51]. However, regulatory divergence usually leads to distinct expression patterns [51–53]. Interestingly, although yeast core histone transcripts include polyA tails, core histone transcripts are unique among metazoan transcripts in that they lack polyA tails. The absence of polyA tails, which are often bound by poly(A)-binding proteins to promote translation initiation, may necessitate, to some extent, species-specific solutions to core histone gene regulation.
The comparative genomics of core histone gene regulation reveal a novel evolutionary mode, which we dub 'circuitous evolution'. Circuitous evolution of core histone gene regulation is distinct from convergent evolution, because the conservation of the core histone gene regulatory patterns suggests that the same pattern existed in the last common ancestor of all species analyzed here. After divergence from the last common ancestor, the core histone expression patterns remained unchanged but the regulatory mechanisms that give rise to the conserved phenotype diverged dramatically. Thus, with respect to core histone gene regulation, where you are from and where you are are far more important than how you get there.
As an addendum, during revision of the manuscript we became aware of a recently published paper [54], which confirms that the specific periodic pattern of core histone gene expression is uniquely evolutionarily conserved. The report by Jensen and coworkers also demonstrates how many different regulatory solutions have evolved to control the periodic expression of integrated biological systems that function in the cell cycle.
Additional data files
The following additional data are available with the online version of this article. Additional data file 1 contains the promoter sequences of core histone genes used in the study. Additional data file 2 contains the core histone protein sequences used in the study. Additional data file 3 contains the list of species used in the study. Additional data file 4 contains the CLOVER predictions for all core histone gene promoters used in the study.
Declarations
Acknowledgements
The authors would like to thank Alex Brick and Geoffrey Watson for their assistance in obtaining core histone intergenic regions during their internships at NCBI and Boris E Shakhnovich for helpful discussions. We are grateful to two anonymous reviewers for valuable comments and suggestions. This study utilized the high-performance computational capabilities of the Biowulf PC/Linux cluster at the National Institutes of Health, Bethesda, Maryland, USA [67]. The authors wish to thank several anonymous reviewers for very helpful comments and suggestions. This research was supported by the Intramural Research Program of the NIH, NLM, and NCBI.
Authors' Affiliations
(1)
Computational Biology Branch, National Center for Biotechnology Information, National Institutes of Health, Bethesda, USA
(2)
School of Biology, Georgia Institute of Technology, Atlanta, USA
Copyright
© Mariño-Ramírez et al.; licensee BioMed Central Ltd. 2006
This article is published under license to BioMed Central Ltd. This is an open access article distributed under the terms of the Creative Commons Attribution License (http://creativecommons.org/licenses/by/2.0), which permits unrestricted use, distribution, and reproduction in any medium, provided the original work is properly cited.