A Melanesian α-thalassemia mutation suggests a novel mechanism for regulating gene expression
Published: 24 October 2006
Approximately 0.1% of the human genome sequence is responsible for the variation among individuals, and the majority of these differences are single-nucleotide polymorphisms (SNPs). Although most SNPs are stable and have no deleterious effects, others are likely to contribute to individuality, disease susceptibility, and individual responses to therapeutic drugs. At present, such 'functional' SNPs have mostly been identified in diseases that are caused by defects in a single gene (monogenic diseases), although SNPs have also been linked to complex diseases such as hypertension, diabetes, heart disease, and cancer, as well as to responses to drugs. SNPs are important not only in medicine but also in basic molecular biology as they represent a natural library of variations that can be used to elucidate and validate mechanisms of gene expression in vivo.
In this regard, a SNP in the gene for myostatin - a transcription factor inhibiting muscle development - has recently been shown to contribute to the muscular hypertrophy typical of the Texel breed of sheep [1]. A G→A transition in the 3' untranslated region of the gene for myostatin creates a target site for a microRNA, which results in translational inhibition of myostatin and consequent muscle growth. Another SNP has recently been shown by De Gobbi et al. [2] to be responsible for a severe form of α-thalassemia found in Melanesia. This SNP disrupts gene expression by another novel mechanism, creating an illegitimate promoter site between the globin enhancers and the adult α-globin gene cluster, which has the effect of downregulating expression of the cluster. The molecular mechanism underlying this downregulation is not yet established, but the new findings provide the basis for some interesting speculations.
Diseases caused by defects in the structure and expression of the globin genes, and thus of hemoglobin, represent the most complete repertoires of monogenic defects known to date. In nearly all cases, the molecular basis of these hemoglobinopathies has been identified [3]. Defects have been identified in protein structure, gene expression, and chromatin organization. The underlying genetic defect in individuals from Melanesia with a particular form of α-thalassemia has, however, eluded researchers for a long time. The disease is characterized by severe anemia, consequent on a marked downregulation of α-globin and the production of excess tetramers of β-globin (β4), also known as hemoglobin H (HbH), which precipitate in the red blood cells. Extensive analysis of the α-globin cluster and the surrounding 300 kb of DNA, however, revealed no deletions or chromosomal rearrangements.
The human α-globin locus is located within the telomeric region of chromosome 16 (Figure
1a
). The locus contains a ζ-globin gene, which is expressed at the embryonic stage of development, two α-globin genes (α
1
and α
2
), which are expressed at the fetal and adult stages, and several minor genes that are expressed at a low level, including the α
D
-globin gene. The physiological levels of α-like globin gene expression depend on a group of enhancers that lie distal to the 5' side of the ζ gene, with each enhancer being characterized by an erythroid-specific DNase I hypersensitive site (HS). Of these, HS-40 has the most powerful enhancer activity [
4
].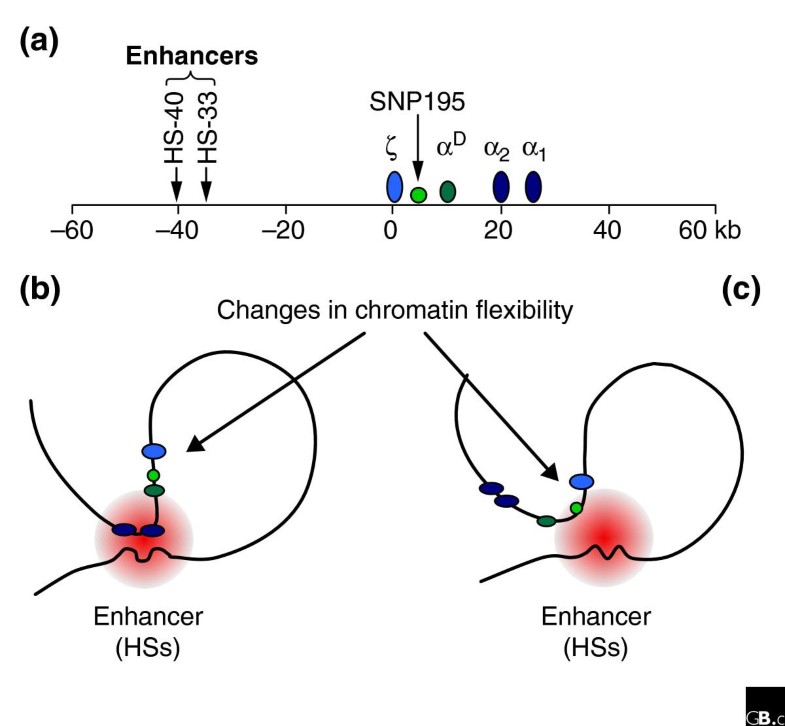 De Gobbi et al. [2] have now characterized the mutation responsible for Melanesian HbH disease as a gain-of-function allele of SNP 195 that creates a new promoter in an intergenic region just upstream of the αD-globin gene, and approximately 13 kb upstream of the adult α-globin genes (Figure 1a). This promoter separates the adult α-globin genes from their upstream enhancers and has the effect of severely downregulating their expression, revealing a novel means of disrupting α-globin gene expression. The disease α-thalassemia results when production of the α-globin and β-globin chains that make up hemoglobin is unbalanced.
Hemoglobin is a tetramer of two α-like and two β-like globin chains and the two kinds of globins are normally synthesized at equal levels. Downregulation of one copy of the α-globin gene causes anemia with mild changes in red blood cells, the so-called α-thalassemia trait, but when α-globin gene expression is reduced to less than 50% of normal, the excess β-globin chains form tetramers that precipitate in the red blood cell, causing a more severe anemia called HbH disease.
The mutation identified by De Gobbi et al. [2] is an A→G transition lying between the ζ gene and the αD gene. Remarkably, they found that transcription from the region around the mutant was increased 1,000 times compared to the wild-type chromatin, as analyzed by the tilted array expression assay [2], but that expression of the αD gene, located immediately downstream of SNP195, was reduced by around 80-fold. Reverse transcription-coupled PCR (RT-PCR) of the RNA isolated from a Melanesian patient showed that transcription of the α1- and α2-globin genes, which are located approximately 13 kb downstream of the mutant, were also decreased in the mutant allele, as expected from the phenotype. The A→G transition created a known binding site (TAATAA→TGATAA) for the erythroid-specific trans-acting factor GATA1. This altered binding site also nucleates the binding of a pentameric erythroid complex, including the transcription factors SCL, E2A, LMO2, and Ldb-1, as analyzed by chromatin immunoprecipitation (ChIP) studies [2]. Unlike the wild-type SNP allele, the mutant allele binds RNA polymerase II, suggesting that a new promoter has been created by the mutation. In addition, De Gobbi et al. [2] carried out a ChIP assay that showed that the mutation resulted in an increase in acetylated histones H3. In summary, they found that SNP195 creates a new promoter-like element between the upstream regulatory element and its cognate promoters. This element, when activated, causes significant downregulation of the αD, α2, and α1 genes that lie downstream, thus causing the thalassemia.
(1)
Division of Medical Genetics, Department of Medicine, University of Washington, Seattle, WA 98195, USA
© BioMed Central Ltd 2006