The tree of one percent
Published: 1 November 2006
Abstract
Two significant evolutionary processes are fundamentally not tree-like in nature - lateral gene transfer among prokaryotes and endosymbiotic gene transfer (from organelles) among eukaryotes. To incorporate such processes into the bigger picture of early evolution, biologists need to depart from the preconceived notion that all genomes are related by a single bifurcating tree.
Keywords
Additional Data FileLateral Gene TransferEukaryotic LineageMicrobial EvolutionrRNA Tree
Evolutionary biologists like to think in terms of trees. Since Darwin, biologists have envisaged phylogeny as a tree-like process of lineage splittings. But Darwin was not concerned with the evolution of microbes, where lateral gene transfer (LGT; a distinctly non-treelike process) is an important mechanism of natural variation, as prokaryotic genome sequences attest [1–4]. Evolutionary biologists are not debating whether LGT exists. But they are debating - and heatedly so - how much LGT actually goes on in evolution. Recent estimates of the proportion of prokaryotic genes that have been affected by LGT differ 30-fold, ranging from 2% [5] to 60% [6]. Biologists are also hotly debating how LGT should influence our approach to understanding genome evolution on the one hand, and our approach to the natural classification of all living things on the other. These debates erupt most acutely over the concept of a tree of life. Here we consider how LGT and endosymbiosis bear on contemporary views of microbial evolution, most of which stem from the days before genome sequences were available.
A tree of life?
When it comes to the concept of a tree of life, there are currently two main camps. One camp, which we shall call the positivists, says that there is a tree of life, that microbial genomes are, in the main, related by a series of bifurcations, and that when we have sifted out a presumably small amount of annoying chaff (LGT), the wheat (the tree) will be there and will still our hunger for a grand and natural system [7–10]. The other camp, which we will call the microbialists, says that LGT is just as natural among prokaryotes as is point mutation, and that furthermore, it has occurred throughout microbial history. This means that even were we to agree on a grand natural classification, the process of microbial evolution underlying it would be fundamentally undepictable as a single bifurcating tree, because a substantial component of the evolutionary process - LGT - is not tree-like to begin with [1, 11, 12].
A recent paper by Ciccarelli et al. [9] brings these two views head-to-head. It purports to weigh in heavily for the positivists, but in doing so it inadvertently provides some of the strongest support for the microbialist camp that has been published so far. A closer look reveals why. Ciccarelli et al. [9] report an automated procedure for identifying protein families that are universally distributed among all genomes, with pipeline alignment and tree building. Their routine looked for possible cases of LGT (detected as unusual tree topologies), excluded such proteins, and reiterated the procedure until the universe of proteins had been examined. This left them with 31 presumably orthologous protein sequences present in 191 genomes each, the alignments of which were concatenated to produce a data matrix with 8,089 sites (of which only 1,212 would have remained had gapped sites been excluded). A maximum likelihood tree was inferred from this matrix, motivating a brief discussion of some important events in life's history as inferred from that tree.
Fair enough, one might say, what is there to debate? Lots. Bearing in mind that an average prokaryotic proteome represents about 3,000 protein-coding genes, the 31-protein tree of life represents only about 1% of an average prokaryotic proteome and only 0.1% of a large eukaryotic proteome. Thus, the positivists can say that there is a tree of life after all: a bit skimpier than expected, but a tree nonetheless. But the microbialists, glaring at the same data, can say that the glass is only 1% full at best, and more than 99% empty! There might be a tree there, but it is not the tree of life, it is the 'tree of one percent of life'.
Looking at the issue openly, the finding that, on average, only 0.1% to 1% of each genome fits the metaphor of a tree of life overwhelmingly supports the central pillar of the microbialist argument that a single bifurcating tree is an insufficient model to describe the microbial evolutionary process. If throwing out all non-universally distributed genes and all suspected cases of LGT in our search for the tree of life leaves us with a tree of one percent, then we should probably abandon the tree as a working hypothesis. When chemists or physicists find that a given null hypothesis can account for only 1% of their data, they immediately start searching for a better hypothesis. Not so with microbial evolution, it seems, which is rather worrying. Could it be that many biologists have their heart set on finding a tree of life, regardless of what the data actually say?
Which hypotheses (if any) are we testing?
By themselves, genomes cannot tell us anything about evolution, microbial or otherwise. Evolutionary biology is about hypothesis testing: one checks to see if data from genomes provide support or not for one or the other hypothesis that was generated independently of the genome data used to test it. What ideas about early evolution that could be tested with genome data are currently discussed by specialists in the field? We consider five distinctly different views, each of which enjoys some popularity.
The biggest branch is the biggest problem
For many biologists concerned with life's deeper relationships, the longest and most strongly supported branch in many current versions of the tree of life as depicted in Figure 1a or in recent papers [9, 16] is also the most misleading: the central branch that implies a sister-group relationship between eukaryotes and archaebacteria [9, 13]. It is misleading because at the level of genome-wide patterns of sequence similarity, eukaryotes are far more similar to eubacteria than they are to archaebacteria [56]. Put another way, eukaryotes possess more eubacteria-related genes than they possess archaebacteria-related genes [56, 57]. This has escaped the attention of almost everyone, and is one of evolutionary biology's best-kept secrets, at least in circles where the rRNA tree is thought to speak for the whole genome.
An example emphasizing this point is shown in Figure
2
, where the percentage amino-acid identity between eukaryotic proteins (human in this example; yeast in [
56
]) and their homologs in prokaryotes (when present) is depicted. Of the 5,833 human proteins that have homologs in these prokaryotes at the specified thresholds, 2,811 (48%) have homologs in eubacteria only, while 828 (14%) have homologs in archaebacteria only, and 4,788 (80%) have greater sequence identity with eubacterial homologs, whereas 877 (15%) are more similar to archaebacterial homologs (196 are ties). The proteins comprising the recent tree of life - or the tree of one percent [
9
] - belong almost exclusively to the informational class [
57
]; that is, they are involved in information storage and processing. It is well known that eukaryotic informational genes are archaea-like [
55
–
57
]. They indicate a close relationship of eukaryotes and archaebacteria, but as is clearly visible in Figure
2
, they speak for only a very small minority of eukaryotic genes [
56
].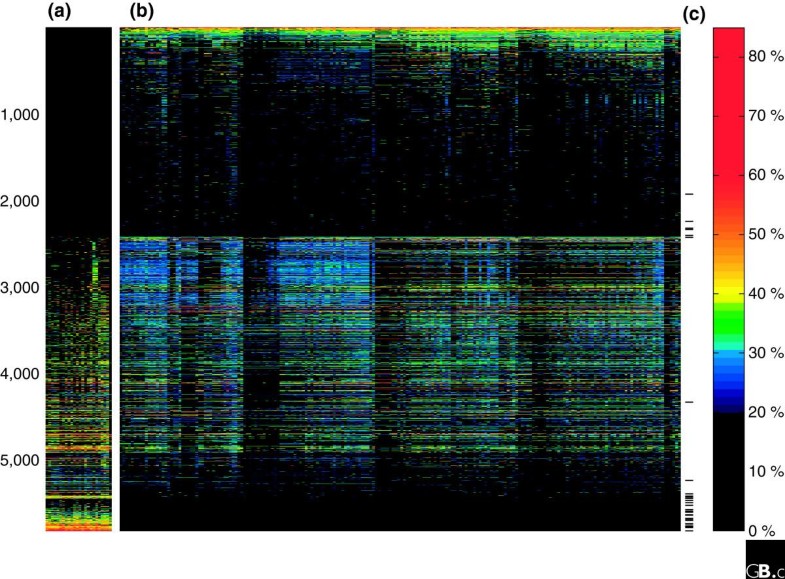 Eukaryotes possess genes that they have inherited from archaebacteria and from eubacterial organelles [58]. But in plants, the acquisition of genes from cyanobacteria (plastids) has been estimated as 18% of the genome; the acquisition from mitochondria could be even greater [52]. Because such substantial gene influxes cannot be represented with bifurcating trees, they are usually just ignored.
A refreshing exception to the assumption that the tree of life is a tree to begin with is the recent paper by Rivera and Lake [55], who reported a procedure that takes LGT into account; it shows eukaryotes as the sisters of archaebacteria and eubacteria simultaneously (Figure 1e, inset 2). But Rivera and Lake [55] did not force the data onto a tree; rather, they looked to see whether the data were actually tree-like in structure, and found that a directed acyclic graph (a ring) represents the underlying evolutionary process linking prokaryotes to eukaryotes better than a tree does. They offered crisp arguments that endosymbiosis is the most likely cause for the ring-like nature of the data.
But not everyone agrees that symbiosis was important in eukaryote evolution. Some biologists, mainly from the positivist camp, categorically reject the idea that eukaryotes acquired many, or any, genes from endosymbionts, and they scorn the notion that endosymbiosis had anything to do with eukaryote origins [15, 19, 39]. An argument salient to that view is the sweeping claim that endosymbiosis and gene transfer from endosymbionts fails to account for the evolution of any outstanding eukaryote characters [19], such as the nucleus. A more optimistic view from the microbialist camp is that the endosymbiotic origin of mitochondria could have made a major contribution to the genetic makeup of eukaryotes [58, 59]. This could account for the finding that operational genes of bacterial origin are in the majority in eukaryote genomes [52]. The origin of mitochondria could have even precipitated the origin of the nucleus via the introduction of introns into eukaryotic lineages [53]. The roles of LGT and endosymbiosis in evolution have always been controversial. Genomes attest that both processes are important [23], but neither can be handled by strictly bifurcating trees as a means to represent genome evolution.
Seeing the wood for the trees
The need to incorporate non-treelike processes into ideas about microbial evolution has long been evident [57, 60–63]. But mathematicians and bioinformaticians are just now beginning to explore the biological utility of graphs that can recover and represent non-treelike process that sometimes underlie patterns of sequence similarity in molecular data and patterns of shared genes. These approaches can involve networks [64–67], rings [55], or simply tack inferred gene exchanges onto trees [4, 68, 69]. These newer approaches aim to recover and depict both the tree-like (vertical inheritance through common descent) and the non-treelike (LGT and endosymbiosis) mechanisms of microbial evolution. As such, they represent important advances, because both mechanisms are germane to the processes through which microbes evolve in nature.
So, are we close to having a microbial tree of life [9]? Or are we closer to rejecting a single tree as the null hypothesis for the process of microbial genome evolution [1, 54]? All in all, the latter seems more likely, for if our search for the tree of life delivers the tree of one percent, then we should be searching for graphs and theories that fit the data better than a single bifurcating tree.
Authors' Affiliations
(1)
Institute of Botany, University of Düsseldorf, Düsseldorf, Germany
Copyright
© BioMed Central Ltd 2006