Relationship between the tissue-specificity of mouse gene expression and the evolutionary origin and function of the proteins
Received: 17 February 2005
Accepted: 11 May 2005
Published: 29 June 2005
Abstract
Background
The combination of complete genome sequence information with expression data enables us to characterize the relationship between a protein's evolutionary origin or functional category and its expression pattern. In this study, mouse proteins were assigned into functional and phyletic groups and the gene expression patterns of the different protein groupings were examined by microarray analysis in various mouse tissues.
Results
Our results suggest that the proteins that are universally distributed in all tissues are predominantly enzymes and transporters. In contrast, the tissue-specific set is dominated by regulatory proteins (signal transduction and transcription factors). An increased tendency to tissue-specificity is observed for metazoan-specific proteins. As the composition of the phyletic groups highly correlates with that of the functional groups, the data were tested in order to determine which of the two factors - function or phyletic age - is dominant in shaping the expression profile of a protein. The observed differences in expression patterns of genes between functional groups were found mainly to reflect their different phyletic origin. The connection between tissue specificity and phyletic age cannot be explained by the recent rate of evolution. Finally, although metazoan-specific proteins tend to be tissue-specific compared with phyletically conserved proteins present in all domains of life, many such 'universal' proteins are also tissue-specific.
Conclusion
The minimal cellular transcriptome of the metazoan cell differs from that of the ancestral unicellular eukaryote: new functions were added (metazoan-specific proteins), whilst other functions became specialized and no longer took place in all cells (tissue-specific pre-metazoan proteins).
Keywords
Additional Data FileSignal Transduction ProteinMouse ProteinUniversal ProteinObserve Test Statistic
Background
Higher animals are characterized by differentiated tissue types, where each tissue has its own unique cellular composition and physiological function. Comparative genomic studies have shown that the evolution of the metazoan lineage involves the expansion of those specific protein families known to participate in cellular communication and transcriptional regulation [1, 2]. However, at the cellular level, it is not yet clear how processes taking place in specific tissues relate to similar processes that took place in the ancestral unicellular species. The recent availability of fully sequenced genomes, together with analysis platforms capable of generating 'global' profiles, enables us not only to identify those proteins that are unique to multicellular species but also to examine their contribution to tissue diversity. We can now study the protein content of a mammalian tissue in comparison with the protein content of unicellular organisms. To what extent does the differentiation process involve gaining new functions and to what extent does it involve specialization of pathways that existed in a unicellular ancestor? Will 'young' proteins (that is, proteins that are unique to multicellular species) exhibit a different expression pattern than 'ancient' or universal proteins?
Recent studies have related several characteristics of a protein to its expression profile. Subramanian and Kumar [3] have shown a connection between a protein's phyletic age and the intensity of expression, as measured by the number of expressed sequence tags. Lehner and Fraser [4] showed that protein domains differ in their tendency to be specifically or widely expressed and that many of the tissue-specific domains are metazoan-specific. Tissue-specific genes evolve more rapidly than broadly expressed ones [5–7]. We have studied the relationship between the phyletic age of a protein and its expression profile, and related this to the function of the protein. The term 'phyletic age' used here describes an estimated point in time when a protein integrated into the mouse genome. The universal and eukaryotic specific phyletic groups include proteins that are estimated to be found in the ancestral mouse genome before the transition from unicellularity to multicellularity. The metazoan-specific and mammalian-specific protein groups describe those proteins that are estimated to be integrated into the mouse genome after the transition. As the phyletic protein groups differ in their functions we wanted to determine whether a protein's expression profile better reflects function or age.
Finally, we wanted to verify that the phyletic age of a protein is indeed a major factor in shaping its expression profile rather than merely a reflection of the level of conservation in a protein - a factor that has already been shown to play a role in determining expression [5–7]. To rule out the possibility that the connection between age and expression is spurious due to the misclassification of rapidly evolving genes and the connection between tissue expression and recent rate of evolution, Subramanian and Kumar [3] showed that the connection still exists in a slowly evolving set of data. However, the assumption that the slow rate of evolution of the genes assumes a correct age classification may not hold if there has been a change in rate during their evolutionary history, for example, diversifying selection followed by conservation after a gene duplication [8]. In this paper, we propose a direct test to show that the connection between phyletic age and tissue expression of a gene cannot be explained by the connection between rate and tissue expression alone, a test which does not assume homotachy and makes use of all the available data.
In order to tackle these questions we have studied expression patterns in 14 mouse tissues. Gene expression patterns (for example, ubiquitous in all tissues examined or tissue-specific) were related to the evolutionary origin of the protein as reflected in the distribution of proteins in different phyla. Firstly, we have assigned mouse proteins to one of four functional categories: two regulatory categories (signal transduction and transcription regulation) and two metabolic categories (enzymes and transporters). Next, the proteins were assigned to a phyletic category: mammalian-specific proteins, metazoan-specific proteins, eukaryote-specific proteins and universal proteins - present in prokaryote species. Then we compared the expression pattern of the different categories within various mouse tissues and studied the tendency of proteins within these groups to be tissue-specific or ubiquitous. The assignment process is described in Figure
1
.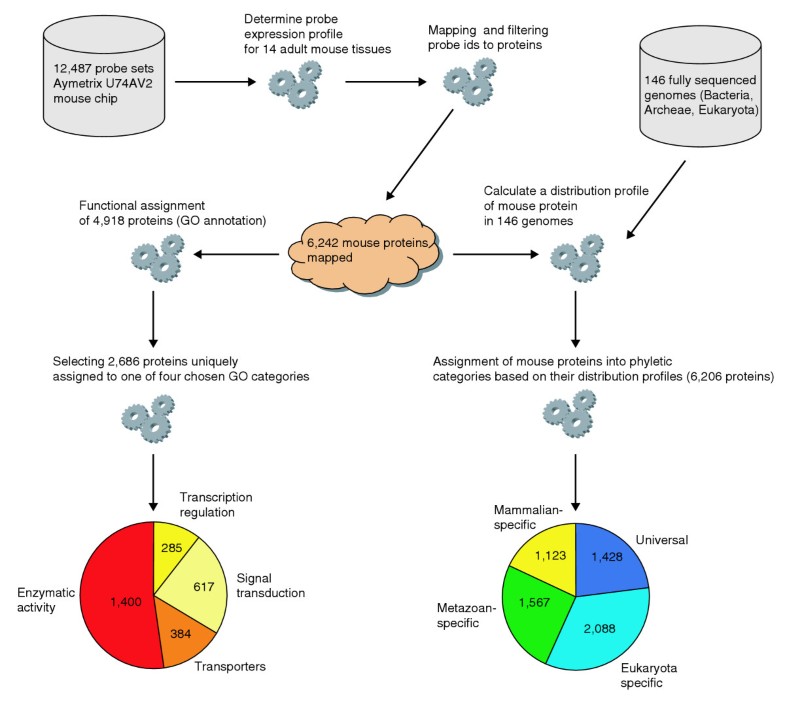 Discussion
It is important to remember that our analysis is based only on those proteins that are present on the Affymetrix chip and have GO annotation. Our dataset covers approximately one-quarter of mouse proteins. Clearly, a better coverage for the expression and annotation of proteins is desirable and could change the conclusion presented below. In order to decrease the probability that our results are arbitrary, we repeated the experiment with a different set of tissues (seven components of the gastrointestinal tract). The results obtained are compatible with the observations we report here (data not shown).
We show here that multicellular specific proteins tend to be more tissue-specific than 'ancient' universal proteins. Most of the 'late' evolutionary proteins are transcription factors and signal transduction proteins, categories that have previously been suggested to play a crucial role in tissue differentiation. However, our analysis suggests that more recent enzymes and transporters also contribute to tissue diversity as many of them are tissue-specific (Figure 4a). The selective expression pattern of recent genes implies that a new protein is often selected to perform a tissue-specific function rather than a global one. A greater evolutionary flexibility of tissue-specific proteins is compatible with previous studies suggesting that tissue-specific proteins evolve more rapidly [5–7] due to less strict functional constraints compared with broadly expressed proteins [5, 13].
Despite this trend, many metazoan-specific proteins are ubiquitous and many universal proteins are tissue-specific. The minimal cellular transcriptome of the metazoan cell differs from that of the ancestral unicellular eukaryote: new functions were added (metazoan-specific proteins), whilst other functions became specialized and no longer took place in all cells (tissue-specific pre-metazoan proteins). The extent of the cellular specialization can be implied from the observation that only one-third of the proteins are expressed in all tissues examined. In some of these cases, functions occurring in the unicellular cell become tissue-specific in multicellular species. In other cases, universal genes that have been duplicated become specific to a tissue whilst a second copy maintains its original expression pattern. Only about one-third of the pre-metazoan metabolic enzymes are expressed in all tissues. Tissue differentiation is at least in part achieved by tissue specialization of metabolism - either by differentially expressing two-thirds of the ancient metabolic proteins, or by encoding new metabolic proteins. Presumably, the additional transcription-related proteins provide the necessary control. We aim to further characterize the expression patterns of processes that exist in the ancestral metazoa and those that are specific to metazoa. In particular, we are interested in studying the contribution of function differentiation versus gene duplication to tissue diversity in multicellular species.
Additional data files
The following additional data are available with the online version of this paper. Additional data file 1 contains the functional assignments of the proteins used in the analysis. Additional data file 2 contains the phyletic assignments of the proteins used in the analysis. Additional data file 3 contains the sequences of the proteins used in the analysis.
Declarations
Acknowledgements
We thank Eric Blanc for his suggestions on microarray data analysis and Christian Von Mering for help with using the STRING database. Shiri Freilich is supported by EMBL fellowship. Tim Massingham is supported by BBRC grant 721/BEP17055. Tom Freeman, Paul Lyons and Sumit Bhattacharyya are supported by the UK MRC.
Authors' Affiliations
(1)
EMBL-EBI, Wellcome Trust Genome Campus, Cambridge, UK
(2)
Rosalind Franklin Centre Genomics Research, Wellcome Trust Genome Campus, Cambridge, UK
Copyright
© Freilich et al.; licensee BioMed Central Ltd. 2005