Tumor microenvironments, the immune system and cancer survival
That the immune system plays an important role in the regulation and outcome of cancer has been an intriguing concept for almost a century. As discussed by Dunn et al. [1, 2], although many observations supported the notion that the ability of cancer to escape the tumor-controlling features of the immune system can be considered a hallmark of cancer, for many years the scientific evidence was conflicting and consensus did not emerge. More recently, however, advances in approaches that perturb specific gene functions in well-defined mouse models of cancer have convincingly demonstrated the importance of the interface between cancer and the immune system [2]. Together with a large body of evidence from human cancers, these advances have generated renewed interest in understanding the role of the host inflammatory response in cancer and in using that knowledge towards the development of new approaches to cancer immunotherapy and vaccination [3–10]. The recently reported results of two groups [11, 12] give new insights into the factors that affect survival of patients with lymphomas, including the importance of the immune system.
Initially, the study of cancer immunobiology was framed within the context of 'immunosurveillance' [
13
], with focus on the role of the immune system in recognizing and inhibiting cancer growth. More recently, it has been recognized that the interrelationship between cancer and the immune system is highly complex and can take very different paths - for instance, from suppression of tumor growth by the immune system or enhancement of tumor progression through the selection of cells so that they lack signals recognized by the immune system. Given this complex biology, it has been suggested that the term immunosurveillance [
13
] be replaced with the more comprehensive term 'immunoediting', encompassing three phases: elimination, equilibrium, and escape [
1
] (Figure
1
). In the elimination phase, which is perhaps the most similar to the original concept of immunosurveillance, the immune system attempts to eradicate the cancer. If this process is unsuccessful, the cancer and the immune system achieve a balance, referred to here as equilibrium, in which the immune system is able to contain but not eliminate the cancer. During the equilibrium phase the cancer is under constant pressure from the immune system but can also undergo genetic changes that can lead to increased immune resistance. If, following many rounds of selection and genetic change, the cancer cells become resistant to immune attack, the escape phase commences, in which the cancer cells are now free to progress, even in the presence of an intact immune system.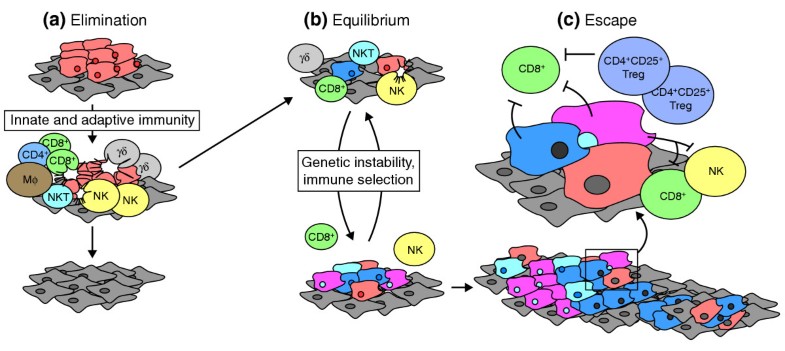 (1)
J. Craig Venter Institute, 9,704 Medical Center Drive, Rockville, MD 20850, USA
© BioMed Central Ltd 2005