Global approaches to understanding ubiquitination
Published: 29 September 2005
Ubiquitin, a small protein of 76 amino acids, is highly conserved in all eukaryotes. In a multi-step process, ubiquitin is covalently linked to lysine residues of substrate proteins. If a single molecule of ubiquitin is linked to a protein, this is referred to as mono-ubiquitination, a process that is of particular importance for protein trafficking but has also been shown to regulate retrovirus budding and to modulate protein function directly [
1
]. A lysine residue of a ubiquitin molecule attached to a substrate can itself serve as an acceptor for an additional ubiquitin molecule, and this process can be repeated so that poly-ubiquitinated proteins form. Poly-ubiquitin chains serve as recognition signals for the 26S proteasome, the major regulator of protein abundance in cells, and poly-ubiquitination thus often initiates proteolysis of the substrate. But poly-ubiquitination can also regulate protein function directly without affecting stability, in ways similar to mono-ubiquitination and other post-translational modifications. The mechanisms underlying proteolysis-independent regulation by poly-ubiquitination are only poorly understood but might function by changing conformation or adding or obscuring a binding site (Figure
1
; for reviews see [
1
–
3
]).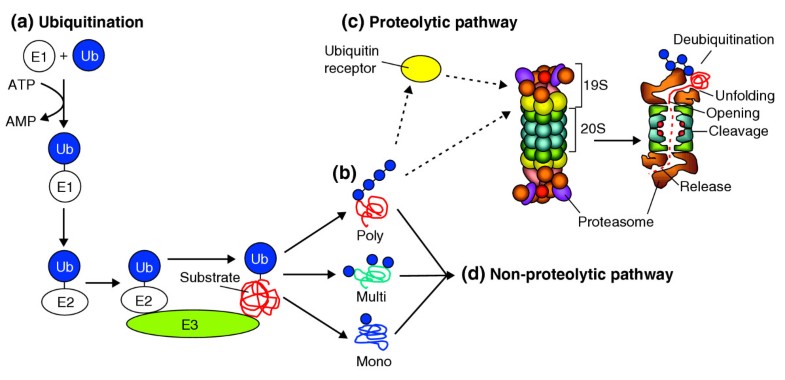 The transfer of ubiquitin is a multi-step process that involves at least three classes of enzymes: ubiquitin-activating enzymes, generally called E1 enzymes; ubiquitin-conjugating enzymes or E2s; and ubiquitin ligases, E3s (Figure 1). E3 ubiquitin ligases are of particular importance because they confer substrate specificity to the system by interacting directly with substrate proteins and thereby directing the transfer of ubiquitin. The human genome encodes an estimated 500-600 ubiquitin ligases, a number comparable to the 518 predicted kinases [4, 5]. If you consider that each ubiquitin ligase is active on several substrates, you can get some impression of the complexity and importance of the ubiquitin system.
Ubiquitination is a highly dynamic process and is balanced by deconjugation of ubiquitin by deubiquitinating enzymes (DUBs). The more than 70 DUBs that are estimated to be encoded in the human genome are responsible for the reversible nature of ubiquitin modifications and have important roles in recycling ubiquitin from proteasome substrates, in stabilizing proteins by counteracting their poly-ubiquitination, and in opposing the proteolysis-independent regulatory roles of ubiquitin modifications (for reviews see [6, 7]). DUBs together with E1, E2 and E3 enzymes and the proteasome make up the ubiquitin-proteasome system.
The large number of proteins that constitute the ubiquitin-proteasome system and the enormous number of ubiquitination substrates mean that global approaches are required if we are to understand fully the role of ubiquitination in cell biology, development, and disease. Large-scale studies of the entire system are still in their early stages, but they have already made important contributions to the field. Here, we review the approaches taken in some of these studies and their findings.
(1)
Department of Biological Chemistry, School of Medicine, niversity of California, Irvine, CA 92697-1700, USA
(2)
Department of Physiology and Biophysics, University of California, Irvine, CA 92697-1700, USA
(3)
Department of Developmental and Cell Biology, University of California, Irvine, CA 92697-1700, USA
© BioMed Central Ltd 2005