Modular decomposition of protein-protein interaction networks
Received: 23 April 2004
Accepted: 7 June 2004
Published: 21 July 2004
Abstract
We introduce an algorithmic method, termed modular decomposition, that defines the organization of protein-interaction networks as a hierarchy of nested modules. Modular decomposition derives the logical rules of how to combine proteins into the actual functional complexes by identifying groups of proteins acting as a single unit (sub-complexes) and those that can be alternatively exchanged in a set of similar complexes. The method is applied to experimental data on the pro-inflammatory tumor necrosis factor-α (TNF-α)/NFκB transcription factor pathway.
Keywords
Additional Data File
Maximal Clique
Parallel Module
Series Module
Logical Organization
Background
Protein complexes and their shared components
Most cellular processes are the result of a cascade of events mediated by proteins that act in a cooperative manner. Proteins combine into macromolecular complexes to execute essential tasks, such as replication, transcription, protein transport or metabolic reaction catalysis. Proteins can therefore be viewed as elementary building blocks of these molecular machines. Moreover, protein complexes can share components: proteins can be reused and participate to several complexes. Identifying protein complexes and the way they share components hence appears as an essential step in describing cellular biology on a molecular basis.
Several technologies for detecting protein interactions such as yeast two-hybrid (Y2H) and protein-complex purifications (PCP) have recently been scaled-up to high-throughput level and have generated large-scale protein-protein interaction datasets [1–4]. Up to now, methods for analyzing such datasets have mainly been based on clustering techniques. They have been applied to assign protein function by inference from the biological context as given by their interactors [5], and to identify complexes as dense regions of the network [6, 7]. Such approaches, in general, do not aim to reveal the detailed structure within and between the detected regions. The logical organization into shared and specific components, and its representation, remains elusive.
The phenomenon of shared components, that is, proteins or groups of proteins occurring in different complexes, is fairly common. A shared component may be a small part of many complexes, acting as a unit that is constantly reused for its function. It may also be the main part of the complex, for example in a family of variant complexes that differ from each other by distinct proteins that provide functional specificity. It is important to capture and properly represent the modularity of protein-protein interaction networks by identifying the shared components and the way they are arranged to generate complexes.
Protein-protein interaction networks are classically represented by graphs with proteins as nodes and physical interactions represented by edges connecting the nodes. Here, we introduce a novel method to elucidate and represent the logical organization of protein-protein interaction networks by using the graph-theory notion of module and the related idea of modular decomposition. Following a brief description of the concept, we first verify the method on known complexes and then interpret a large-scale protein-protein interaction network around the transcription factor NFκB.
Modular decomposition of graphs
Modules
A graph is a formal framework for representing elements and their relations. Elements are represented as nodes and a link connects two nodes of elements in relation. Nodes connected by a link are said to be neighbors. In graph theory, a module is a set of nodes that have the same neighbors outside the module (Figure
1
).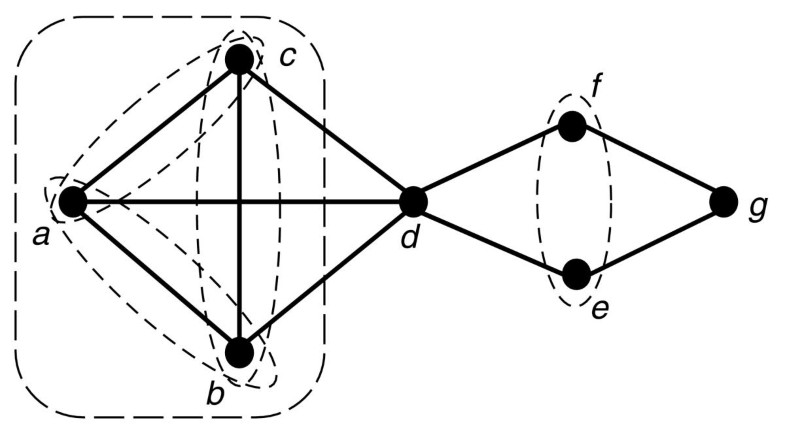 Quotient
Because elements of a module have exactly the same neighbors outside the module, one can substitute all of them for a representative node. In a quotient, all elements of the module are replaced by the representative node, and the edges with the neighbors are replaced by edges to the representative.
Quotients can be iterated until the entire graph is merged into a final representative node. Iterated quotients can be captured in a tree, where each node represents a module, which is a subset of its parent and the set of its descendant leaves.
Modular decomposition
The modular decomposition is a unique, canonical tree of iterated quotients. Formal proofs as well as generalizations to structures other than graphs have been described by Möhring
et al.
[
8
,
9
]. The nodes of the modular decomposition are labeled in three ways (Figure
2
): as series when the direct descendants are all neighbors of each other; as parallel when the direct descendants are all non-neighbors of each other; and by the structure of the module otherwise (the so-called prime module case). Modular decomposition derives an exact alternative representation of a graph as a tree of labeled nodes.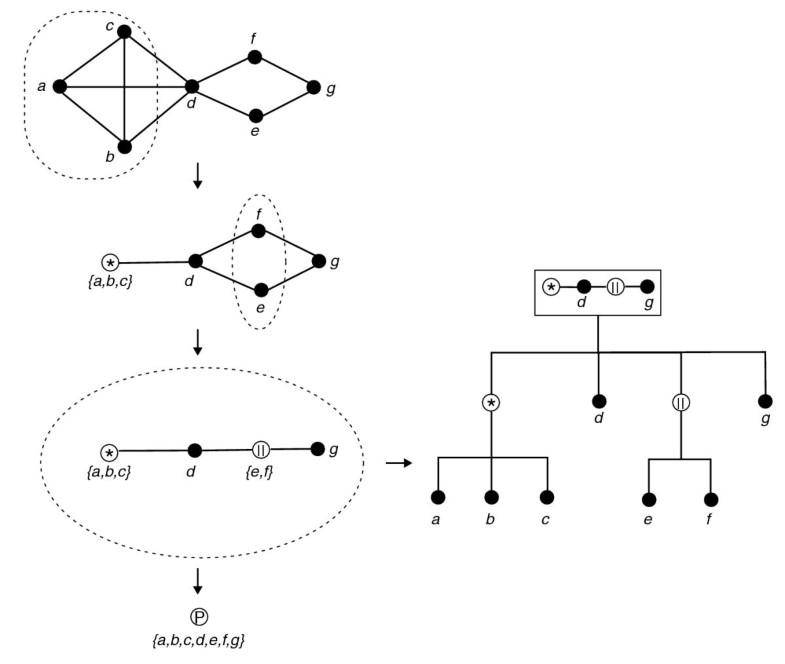 Protein-protein interaction networks
The relationship between proteins identified via PCP and yeast two-hybrid (Y2H) methods is of a different nature (PCP in this instance comprises both the TAP-MS method (tandem affinity purification with mass spectrometric identification) used by Gavin et al. [10] and HMS-PCI (high-throughput mass spectrometric protein complex identification) as defined by Ho and colleagues [3]). TAP, for example, identifies multiprotein complexes, whereas Y2H systems [11] detect direct physical interactions between two proteins. Hence, edges in the corresponding networks symbolize different physical relationships between proteins. Therefore, with a different semantic given to the graph, modular decomposition has a different meaning. As we are interested in protein complexes, we focus our analysis on the PCP context.
A PCP experiment starts with the selection of a protein, called the bait. Purification of the bait results in the co-purification of proteins that co-occur in at least one complex with the bait protein. We assume in a first approach the datasets to be complete, that is, with all proteins in a given network systematically selected as baits. The dataset can be represented by a graph with proteins as nodes and an edge between proteins A and B if, and only if, there is at least one complex containing both A and B (Figure
3a
).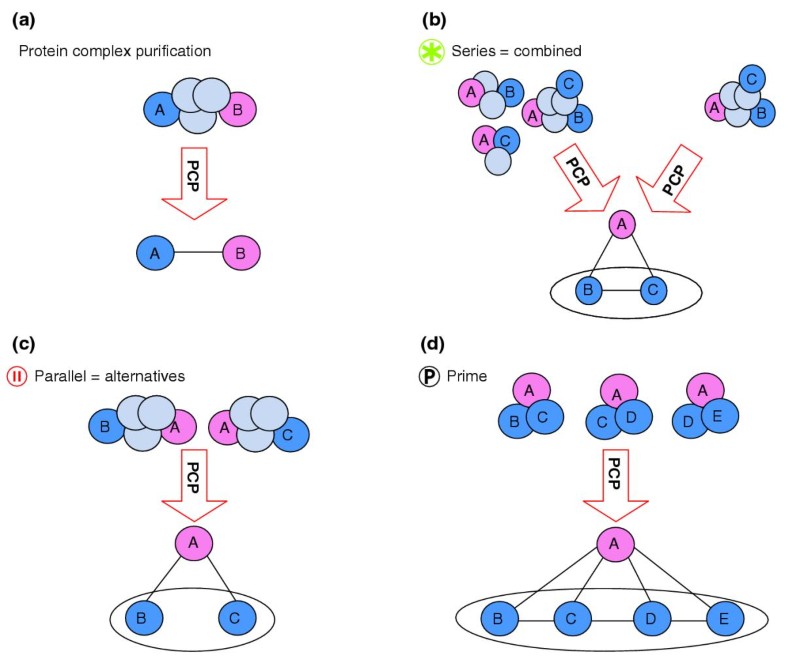 It is important to note that a complex appears as a clique, that is, a fully connected sub-part of the network (Figure
4
). However, the converse is not true: not every clique in the network necessarily derives from an existing complex. For example, three connected proteins can be the outcome of a single trimer, three heterodimers or combinations thereof (Figure
3b
). On the basis of network analysis one cannot discriminate between these theoretical options. Moreover, the stoichiometry of complex constituents, that is, the respective number of copies of the same protein in the assembly cannot be inferred from PCP experiments. We therefore disregard stoichiometry issues and deal with the multiple options by adopting a parsimonious solution that embeds all possibilities: we consider the largest possible complex, which appears as a maximal clique in the graph. Finding maximal cliques is the basis for algorithms of protein-complex computation based on protein-protein interaction networks [
6
,
7
].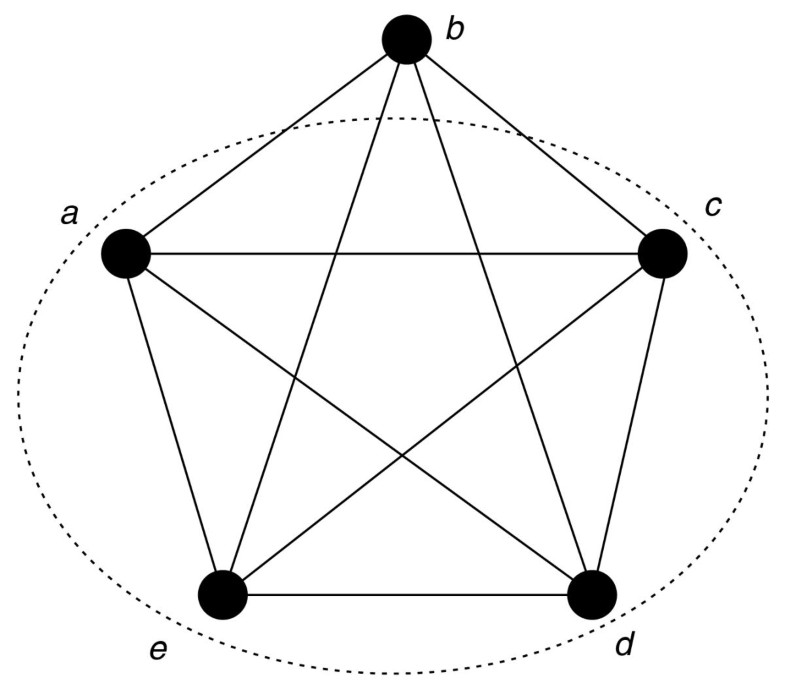 Modular decomposition provides an instruction set to deliver all maximal cliques of a graph. In particular, when the decomposition has only series and parallels, the maximal cliques are straightforwardly retrieved by traversing the tree recursively from top to bottom. When encountered, a series module acts as a product: the maximal cliques are all the combinations made up of one maximal clique from each 'child' node. A parallel module acts as a sum: the set of maximal cliques is the union of all maximal cliques from the 'child' nodes. In the following, particular examples illustrate the application of this method.
Results
In this section, we demonstrate the application of modular decomposition for interpreting PCP networks of protein interactions. We find that modules have a functional interpretation, and that the labeling of the modules into prime, series and parallel corresponds to typical biological strategies of protein reuse.
Discussion
We introduced a definition of a module in the context of protein-protein interaction networks as a group of proteins that share the same interactors outside the module. Networks can be decomposed into a hierarchy of nested modules in a canonical way: the modular decomposition. More than just a hierarchical decomposition [26–28], the modular decomposition also states the logical relation between the members of the identified modules. Within a series module the members are all interacting with each other and can be considered from the outside as a single unit. Within a parallel module the members are all disconnected and can be considered as exclusive alternatives for the rest of the network. Prime modules appear as the most condensed structures of the network, where alternatives and units have been factored out. The whole tree provides a comprehensive representation of the logical organization of the network into modules. If primes are labeled by their structure, the tree is an exact alternative representation of the network.
We applied the method of modular decomposition to established examples of protein complexes and retrieved a consistent modular description of the composition that groups proteins with common biological role. The labeling of modules captures their relationship. In particular, series correspond to cooperative proteins whereas parallel modules correspond to alternative proteins for fulfilling the same function. Alternative proteins can be supposed to be paralogs. From a structural point of view, proteins in a parallel module most probably have the same or overlapping binding sites, whereas proteins in a series module are likely to have non-shared, non-overlapping binding sites.
We used modular decomposition to analyze a large PCP protein-protein interaction network of experimental data. It helped to structure the whole network in a consistent way but was also applied locally to reveal the variant complexes of NFκB members and their interactors. Application to experimental interaction data of the TNF-α/NFκB pro-inflammatory pathway requires appropriate distinction of bait proteins and retrieved interactors. For the whole dataset, bait proteins happen to stay in a large prime structure. Interactors, however, are more systematically grouped in modules on the basis of the baits they co-purified with. Those groups do typically define functionally related proteins. Starting from a selected set of proteins, here the NFκB proteins, modular decomposition of their interactions provided a clear rule set for their combinatorial assembly into complexes. Expanding the network to the direct interactors with subsequent modular decomposition refines their interactors' role with respect to NFκB, characterizing alternative modulation routes.
Two particular graph features had been recognized in previous reports to be helpful in reducing the complexity of biological networks. First, disconnected sub-graphs, termed connected components, are readily identified and treated independently (see, for example [29]). Second, groups of nodes that share exactly the same neighbors were described [30]. Both those features correspond to parallel modules, and both kinds of groups are consistently reflected as special cases in the modular decomposition tree. Modular decomposition offers a unified framework where connected components define a module at the root and the nodes with identical neighbors define bottom-level modules. Consequently, modular decomposition can be successfully applied to experimental datasets presenting large numbers of these modules, as it is the case in the TNF-α/NFκB pathway dataset.
A related question to be explored is the definition of the system of study. Indeed, the definition of a module is relative and depends strongly on the network being considered. This question comes up when facing large-scale experimental datasets and has been investigated, for example, for metabolic networks [31]. Our study of the TNF-α/NFκB pathway illustrates that this question goes hand in hand with the definition of the scope of the biological question, here the investigation of NFκB variants. Modular decomposition is not appropriate to define subsystems on its own, and should be applied in combination with strategies dedicated to this purpose.
It is tempting to apply modular decomposition to networks derived from Y2H experiments. Modules can be interpreted in this context as proteins with the same direct binding partners, that can all (series) or not (parallel) physically bind to each other, but we could not come up with a functional interpretation. However, Y2H gives information on the geometrical structure of complexes, whereas PCP informs on their compositions. Combining these two data sources can help in reducing the ambiguities intrinsic to each technique.
A modular description of molecular biology has been demanded and the lack of clear module definition stressed [32, 33]. Two main directions have been followed to specify this notion, one toward dense parts of the network [7, 27], the other one looking at repeated motifs [34]. We propose an alternative direction: a module is a group of elements that are indistinguishable from the rest of the network. This definition for graphs is general in nature and thus could be applied to and reinterpreted for other graphs in biology. Some biological relationships, like gene regulatory networks or metabolic networks, are better represented by different graph variants such as directed graphs or hypergraphs. Fortunately, the notion of module and its related decomposition has been defined in these cases [9] and can be used there. Another example is the state graph, a directed graph that describes the states of gene regulatory networks and the transitions between these states. The state graph can get exponentially large when all potential states are considered. However, to provide a more compact description that entirely captures the system behavior, groups of equivalent states can be condensed [35] which relates to the notion of modules of this directed graph. Similarly, the regulatory modules described by Segal and collaborators [36] are groups of genes obeying the same regulatory program, and hence are indistinguishable from the rest of the gene regulatory network. We assume that those examples are only a fraction of the potential types of biological study that would benefit from the concept of modular decomposition. Therefore, we foresee modular decomposition as a general and fundamental tool for network-based research and systems biology.
Materials and methods
Complex purifications
Experimental procedures for TAP-tagged purification of complexes in the TNFα/NFκB signaling pathway are described in [21].
Declarations
Acknowledgements
This work is supported by Cellzome AG. We thank Nathalie Chabrier for revealing to us the notion of modules in graphs and Ross McConnell for encouraging support in the implementation phase. We are grateful to Anne-Claude Gavin, Paola Grandi and Gerard Drewes for stimulating discussions and biological insight. We thank anonymous referees for their constructive comments.
Authors' Affiliations
(1)
Cellzome AG, Heidelberg, Germany
(2)
Laboratoire de Mathématiques Appliquées aux Systèmes, Ecole Centrale Paris, Grande Voie des Vignes, Châtenay-Malabry cedex, France
Copyright
© Gagneur et al.; licensee BioMed Central Ltd. 2004
This article is published under license to BioMed Central Ltd. This is an Open Access article: verbatim copying and redistribution of this article are permitted in all media for any purpose, provided this notice is preserved along with the article's original URL.