The diversity of LTR retrotransposons
Transposons are mobile genetic elements that can multiply in the genome using a variety of mechanisms. Retrotransposons replicate through reverse transcription of their RNA and integration of the resulting cDNA into another locus. This mechanism of replication is shared with retroviruses, with the difference that retrotransposons do not form infectious particles that leave the cell to infect other cells. The long terminal repeat (LTR) retrotransposons, one of the main groups of retroelements (which include both LTR and non-LTR retrotransposons as well as retroviruses), are among the most abundant constituents of eukaryotic genomes. The LTRs are the direct sequence repeats that flank the internal coding region, which - in all autonomous (functional) LTR retrotransposons - includes genes encoding both structural and enzymatic proteins. The gag gene encodes structural proteins that form the virus-like particle (VLP), inside which reverse transcription takes place. The pol gene encodes several enzymatic functions, including a protease that cleaves the Pol polyprotein, a reverse transcriptase (RT) that copies the retrotransposon's RNA into cDNA, and an integrase that integrates the cDNA into the genome.
Much of what we know about the mechanisms of LTR retrotransposition (Figure
1
) comes from work on yeast retrotransposons [
1
,
2
], but it is generally assumed that the mechanism is very similar among LTR retrotransposons from divergent hosts. First, a retrotransposon's RNA is transcribed by the cellularly encoded RNA polymerase II from a promoter located within the 5' LTR. The RNA is then translated in the cytoplasm to give the proteins that form the VLP and carry out the reverse transcription and integration steps. Typically, two RNA molecules are packaged into one virus-like particle, and the RNA is subsequently made into a full-length DNA copy through a reverse transcription reaction that is first primed from a tRNA that pairs to a sequence near the 5' LTR (the primer-binding site). The resulting partial cDNA (called 'strong stop' DNA) is transferred from the 5' LTR to the 3' LTR, where reverse transcription proceeds. A second priming event initiates at a polypurine tract near the 3' LTR. The cDNA primed from the polypurine tract undergoes an additional strand transfer, ultimately giving rise to a double-stranded cDNA molecule. Finally, the cDNA is integrated back into the host DNA, adding another copy of the retrotransposon to the genome.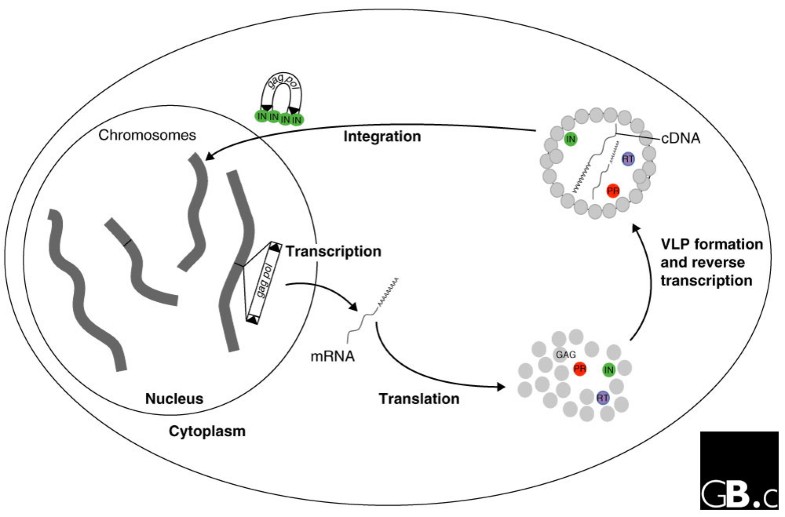 (1)
Department of Genetics, Development and Cell Biology, Iowa State University, Ames, IA 50011, USA
© BioMed Central Ltd 2004