Structural genomics of membrane proteins
The goal of determining the structure of membrane proteins continues to define a substantial region of the structural biology horizon. While significant progress has been made over the past five years, the ratio of structures solved for membrane proteins to those solved for soluble proteins remains small, such that membrane proteins comprise less than 1 in 100 of the structures deposited in the Protein Data Bank (PDB) [1].
Although the total number of membrane-protein structures determined to date is but a small fraction of all protein structures determined, the more than 100 structures on deposit in public databases represent a substantial start. A burgeoning database [
2
] already contains examples of proteins with seven transmembrane helices, ion and water channels, transporters, ATPases, porins, toxins, and an array of proteins involved in energy production. While substantial architectural diversity can be found among the membrane-protein structures determined to date, they clearly fall into one of two general categories, those containing α-helical transmembrane regions and those with transmembrane regions composed of β strands arranged to form barrel-like structures, the latter being primarily represented by the porins of bacterial outer membranes. Examples of structures from these two categories are shown in Figure
1
.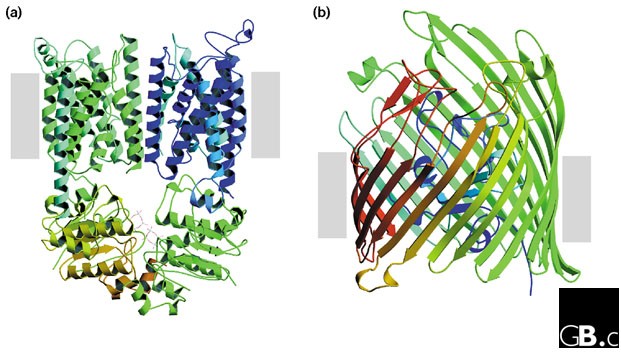 The relatively small number of membrane-protein structures determined to date stems primarily from the requirement for solubilization of membrane proteins before crystallization, while preserving the structural integrity of the solubilized protein. Despite this challenge, the need to increase the number of known membrane-protein structures is clear and is further emphasized by the estimate that more than 30% of a typical cell's proteins are membrane proteins [3] and that more than half of all membrane proteins are predicted to be pharmaceutical targets [4]. The recent modest increase in the rate of determining membrane-protein structures has been facilitated by improvements in the areas of membrane-protein molecular biology and biochemistry, and through technical advances in synchrotron X-ray beamlines for crystallography, high-field nuclear magnetic resonance (NMR) and high-resolution electron microscopy. The availability of sequenced genomes spanning a broad range of species has vastly improved searches for structural homologs and the prediction of previously unknown membrane proteins. These factors have converged to help set the stage for the determination of membrane-protein structures rapidly and on a large scale.
In recent years a number of consortia, bringing together researchers from a variety of academic and research institutions [5–7]; have been established to address and execute the goals of structural genomics - that is, to dramatically increase the database of known protein structures by developing and applying methodologies to determine them as rapidly and cost-effectively as possible. To date, however, only one group (Mycobacterium tuberculosis Membrane Protein Structural Genomics [8]) has taken on as its primary mission the high-throughput determination of membrane-protein structures. While the efforts of this group are ongoing, substantial progress has already been made in the construction of expression vectors on a large scale.
This article provides an overview of the factors essential for the determination of membrane-protein structures in high-throughput fashion and the progress that has been made so far in these areas. The key issues that arise for a researcher who wishes to determine the structure of membrane proteins at the atomic level are: how to produce sufficient protein, and once produced how to solubilize and purify the protein; then, how to crystallize the protein, or whether instead to study it in solution; and finally, how to scale up such methods for high-throughput structure determination.
(1)
Life Sciences Division, Lawrence Berkeley National Laboratory, University of California, Berkeley, CA 94720, USA
(2)
National High Magnetic Field Lab and Department of Chemistry and Biochemistry, Florida State University, Tallahassee, FL 32306, USA
© BioMed Central Ltd 2004