Protein family review
Open Access
Protein prenyltransferases
Sebastian Maurer-Stroh

1

Email author

,

Stefan Washietl

1 and

Frank Eisenhaber

1
Summary
Three different protein prenyltransferases (farnesyltransferase and geranylgeranyltransferases I and II) catalyze the attachment of prenyl lipid anchors 15 or 20 carbons long to the carboxyl termini of a variety of eukaryotic proteins. Farnesyltransferase and geranylgeranyltransferase I both recognize a 'Ca1a2X' motif on their protein substrates; geranylgeranyltransferase II recognizes a different, non-CaaX motif. Each enzyme has two subunits. The genes encoding CaaX protein prenyltransferases are considerably longer than those encoding non-CaaX subunits, as a result of longer introns. Alternative splice forms are predicted to occur, but the extent to which each splice form is translated and the functions of the different resulting isoforms remain to be established. Farnesyltransferase-inhibitor drugs have been developed as anti-cancer agents and may also be able to treat several other diseases. The effects of these inhibitors are complicated, however, by the overlapping substrate specificities of geranylgeranyltransferase I and farnesyltransferase.
Keywords
FarnesylCarboxyl TerminusLanosterolCycloartenolGeranylgeranylpyrophosphate
Gene organization and evolutionary history
Gene organization
Protein prenylation is the posttranslational attachment of either a farnesyl group or a geranylgeranyl group via a thioether linkage (-C-S-C-) to a cysteine at or near the carboxyl terminus of the protein. Farnesyl and geranylgeranyl groups are polyisoprenes, unsaturated hydrocarbons with a multiple of five carbons; the chain is 15 carbons long in the farnesyl moiety and 20 carbons long in the geranylgeranyl moiety (see Table
1
). There are three different protein prenyltransferases in humans: farnesyltransferase (FT) and geranylgeranyltransferase 1 (GGT1) share the same motif (the CaaX box) around the cysteine in their substrates, and are thus called CaaX prenyltransferases, whereas geranylgeranyltransferase 2 (GGT2, also called Rab geranylgeranyltransferase) recognizes a different motif and is thus called a non-CaaX prenyltransferase [
1
]. Each protein consists of two subunits, α and β; the α subunit of FT and GGT1 is encoded by the same gene,
FNTA
(see Table
1
).
Table 1
Features of human protein prenyltransferases
| | | | |
| --- | --- | --- | --- |
| | Farnesyltransferase (FT) | Geranylgeranyltransferase I (GGT1) | Geranylgeranyltransferase II (GGT2 or RabGGT) |
| Gene name (α subunit) | FNTA | FNTA | RABGGTA |
| Gene name (β subunit) | FNTB | PGGT1B | RABGGTB |
| Substrate motif | Carboxy-terminal -Ca1a2X box* | Carboxy-terminal -Ca1a2X box* | Carboxy-terminal motif such as -CC, -CXC, -CCX, -CCXX, -CCXXX, or -CXXX† |
| Lipid anchor | Farnesyl | Geranylgeranyl | Geranylgeranyl(one or two moieties per substrate) |
The genomic organization of the human genes that encode protein prenyltransferases is shown in Figure
1
. It is interesting to note that the genes encoding both subunits of non-CaaX prenyltransferases are much smaller (about 6-9 kilobases, kb) than those of the CaaX prenyltransferases (about 30-76 kb). The number of exons in the two types of genes are similar; the differences in gene size therefore result from differing intron lengths.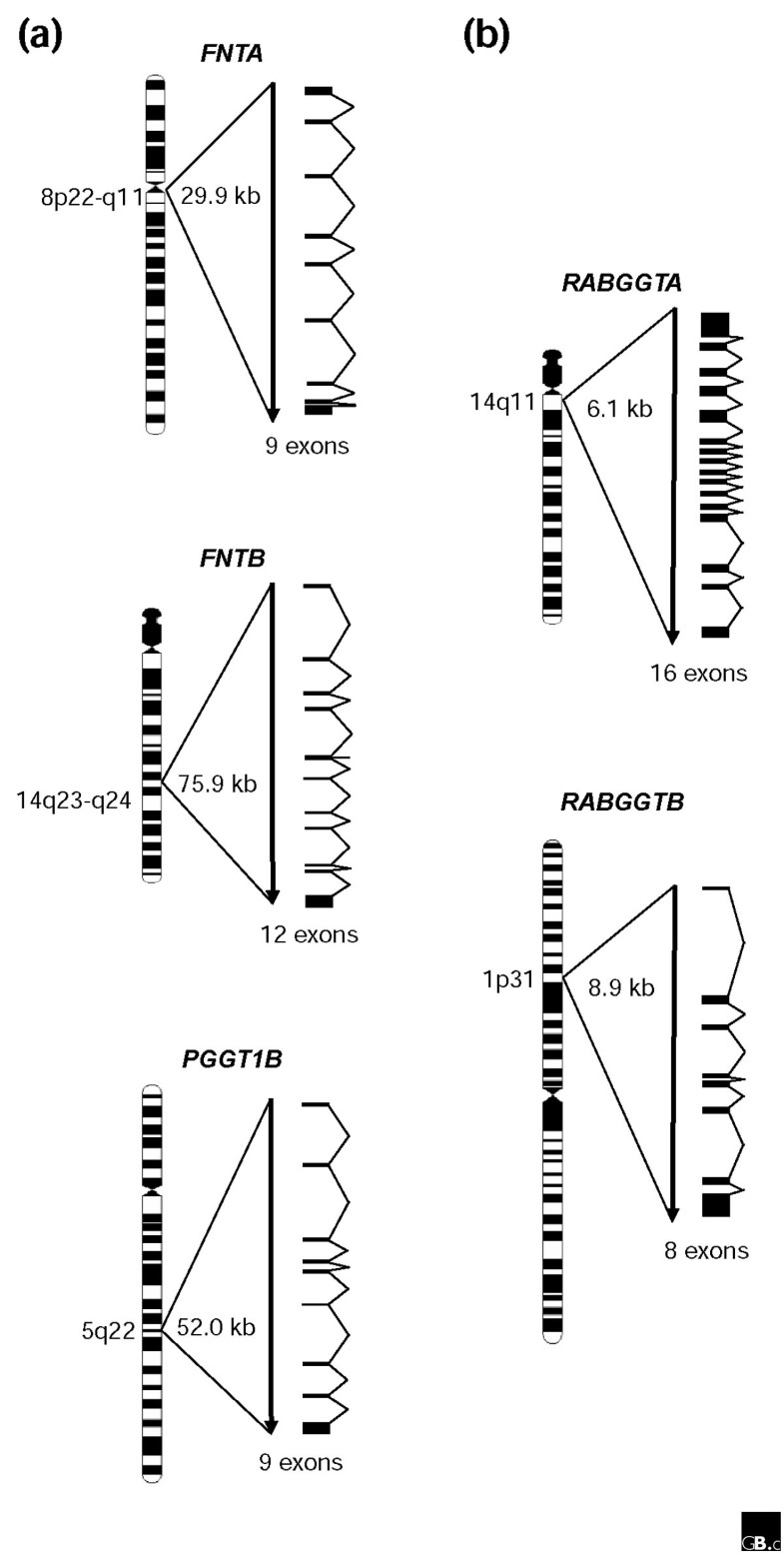 Automatic comparisons of data from expressed sequence tags (ESTs) with genes (for example using the program Acembly, for which the results are available from the NCBI AceView server [2]) shows that all the human protein prenyltransferase genes have multiple alternative splice variants. The extent of translation of the various predicted transcripts and the structures and functions of the resulting proteins remain to be established experimentally; some of the predicted transcripts may be derived from missplicing rather than being real splice variants.
Evolutionary history
Protein prenyltransferases are currently known only in eukaryotes, but they are widespread, being found in vertebrates, insects, nematodes, plants, fungi and protozoa, including several parasites. The chromosomal locations and number of exons from protein prenyltransferase genes in the major eukaryotic model organisms are shown in Table
2
. The α and β subunits have different folds, so are unlikely to have arisen from a common ancestor. Molecular phylogenetic analysis shows that orthologous proteins in different species are more closely related to each other than to their paralogs in the same species; the relationships between the β subunits are not fully clear. As well as the known genes, processed pseudogenes resulting from retrotransposition events have been found in the human and mouse genomes [
3
,
4
].
Table 2
Protein prenyltransferase genes in model organisms
| | | | |
| --- | --- | --- | --- |
| Organism | Subunit | Chromosome | Number of exons |
| Mus musculus | FTA (GGT1A) | 8 | 9 |
| | FTB | 12 | 6 |
| | GGT1B | 18 | 9 |
| | GGT2A | 14 | 15 |
| | GGT2B | 3 | 8 |
| Drosophila melanogaster | FTA (GGT1A) | 2 | 3 |
| | FTB | 3 | 4 |
| | GGT1B | 2 | 4 |
| | GGT2A | 3 | 1 |
| | GGT2B | 2 | 2 |
| Caenorhabditis elegans | FTA (GGT1A) | 4 | 4 |
| | FTB | 5 | 6 |
| | GGT1B | 2 | 6 |
| | GGT2A | 4 | 9 |
| | GGT2B | 3 | 6 |
| Arabidopsis thaliana | FTA (GGT1A) | 3 | 5 |
| | FTB | 5 | 14 |
| | GGT1B | 2 | 11 |
| | GGT2A | 4 | 8 |
| | GGT2B | 3 | 9 |
| Saccharomyces cerevisiae | FTA (GGT1A) | 11 | 1 |
| | FTB | 4 | 1 |
| | GGT1B | 7 | 1 |
| | GGT2A | 10 | 1 |
| | GGT2B | 16 | 1 |
The α subunits of protein prenyltransferases consist of tetratricopeptide repeats and are part of the tetratricopeptide repeat superfamily [5], which also includes functionally diverse proteins involved in transcription, co-chaperoning, protein transport, cell-cycle control and phosphorylation. Although evolution of repeat proteins is difficult to analyze and interpret, Zhang and Grishin [6] have deduced convincingly that the FNTA and RABGGTA genes originated from a common ancestor that already contained multiple tetratricopeptide repeats rather than having independently amplified the number of motifs as the families diverged over time.
The evolutionary history of the β subunits of protein prenyltransferases has received much less attention so far than that of the α subunits [
7
]. They can, however, be shown using standard sequence analysis tools such as PSI-Blast [
8
] or HMMer [
9
] to be part of a superfamily of prenyltransferases. Whereas the β subunits of protein prenyltransferases attach lipid anchors to proteins, other members of the superfamily catalyze different reactions involving polyisoprenes, such as the cyclization of polyisoprene derivatives during the synthesis of hopanoids in bacteria [
10
], cycloartenol in plants [
11
], ergosterol in fungi [
12
] and lanosterol in vertebrates [
13
,
14
]; these products are then generally processed further to produce essential substances such as cholesterol, steroid hormones or vitamin D and their equivalents. A merged PFAM [
15
] domain (PF00432) has been created containing the β subunits of protein prenyltransferases, as well as squalene-hopene cyclases and lanosterol and cycloartenol synthases. Intriguingly, structural superposition of the conserved (α-α)
6
barrel forming one half of bacterial squalene-hopene cyclase (the enzyme that synthesizes hopanoids) [
16
] with the β subunit of rat FT [
17
] reveals correspondence not only of their secondary structural elements but also of the parts of their active or binding sites (Figure
2
). This would make sense if the different enzymes have retained common reaction mechanisms - or at least common substrate-binding characteristics - during evolution. Indeed, all of the members of the prenyltransferase superfamily bind substrates containing isoprenyl units, although they bind different numbers and variations of such units and the underlying processing and binding mechanisms seem to have diverged widely over time.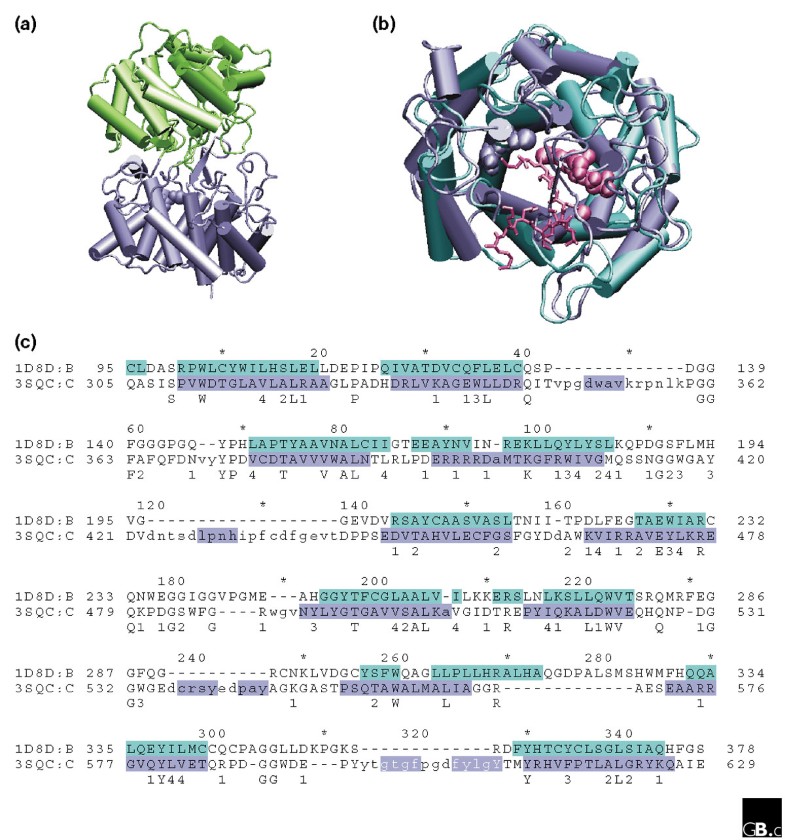 Characteristic structural features
The CaaX prenyltransferases FT and GGT1 and the non-CaaX prenyltransferase GGT2 share the same heterodimeric structure [
1
] (Figure
3
). In the α subunits of both types of protein prenyltransferases, seven tetratricopeptide repeats are formed by pairs of helices (helices 2 to 15) that are stabilized by conserved intercalating residues. The α subunits of GGT2 in mammals and plants also have an immunoglobulin-like domain between the fifth and sixth tetratricopeptide repeat, as well as leucine-rich repeats at the carboxyl terminus. The functions of these additional domains in GGT2 are as yet undefined, but they are apparently not directly involved in the interaction with substrates and Rab escort proteins (see below) [
18
,
19
]. The tetratricopeptide repeats of the α subunit form a right-handed superhelix, which embraces the (α-α)
6
barrel of the β subunit [
20
]. The β subunits include most of the substrate- and lipid-binding pockets [
20
] and their tight association with the respective α subunits is required for proper function [
21
]. Compared with FT, GGT2 has a larger hydrophobic pocket in the β subunit to accommodate the longer lipid [
22
].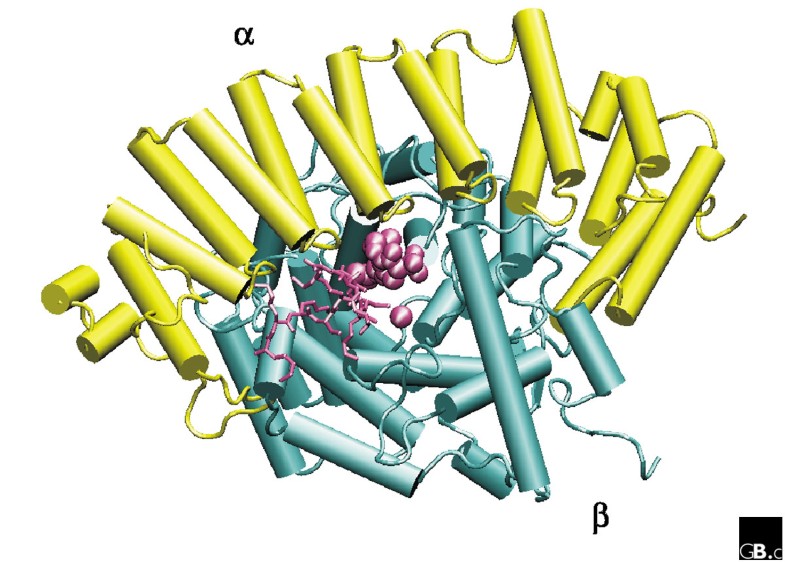 It is difficult to estimate the effect of alternative splicing on the structure of protein prenyltransferases. We would expect that the integrity of the structure of the β subunits would be more sensitive to non-terminal truncations than are the α subunits, because the modular structure of the tetratricopeptide repeat motifs in the α subunits would allow truncations and additions without severe consequences for the hydrophobic packing of the structure.
Frontiers
There are several issues that merit further study in the regulation of protein prenyltransferases. Firstly, it is not clear how the concomitant transcription of the two subunits from two different chromosomes is regulated or where and how the subunits meet to build up functional prenyltransferases. Secondly, given that there are multiple splice variants, it is likely that additional variants of subunits will be found to have distinct functions or regulatory roles; an example is a variant of the FT/GGT1 α subunit that has been reported to be directly involved in signaling by transforming growth factor β and activin [65]. Interpretation of results in areas ranging from molecular biology to clinical trials must take into account possible isoforms with varying functions or altered interactions to avoid erroneous conclusions.
A third issue is the striking differences in gene size and intron length between the two types of protein prenyltransferases. One of several possible factors that could have caused this is a difference in evolutionary selection pressures. Whereas FT and GGT1 partly compensate each other functionally, there is no counterpart for GGT2. Furthermore, formation of a complex between the substrate and an escort protein is necessary for recognition by GGT2 and the conservation of additional binding sites at the surface is therefore required. Also, the severity of the effect when the prenylation of different substrates is abolished may vary. Finally, the size of the genomic region containing the gene might alter its accessibility to the transcription machinery and the time needed to complete transcription, so gene size may affect or be affected by expression levels. The implications of these factors for the exact evolutionary history of the protein prenyltransferase genes (such as the relative ages of the subunits and the order of duplication events) remain to be established.
Finally, more research is also needed on the effects of FTIs. After the rush to develop inhibitors, basic research is now needed as well as clinical trials in order to improve the understanding of the basic processes involved [66]. For example, it cannot be ruled out that some effects of FTIs are not a direct consequence of inhibiting prenylation but are instead due to cross-reactivity with proteins from completely different pathways. It is tempting to speculate that one of the proteins that are evolutionarily related to the protein prenyltransferases (such as other prenyltransferases) could be affected by FTIs; the selectivity of existing FTIs, which do not inhibit even the much more closely related GGTs, makes this scenario most unlikely, however. The next task is to identify clearly the proteins whose altered prenylation causes the observed effects of FT inhibition. Given the multiplicity and heterogeneity of these effects, it is clear that they cannot be attributed to one single farnesylated protein that lacks a lipid modification because of FT inhibition; rather, alterations in the function of several proteins probably cause the observed effects, with variations depending on the cell type, disease and organism. Further research may eventually lead to FTIs being used successfully to treat cancers and other diseases.
Declarations
Acknowledgements
The authors are grateful for useful comments from Maria Novatchkova and Alexander Schleiffer as well as for continuous support from Boehringer Ingelheim. This project has been partly funded by the Fonds zur Förderung der wissenschaftlichen Forschung Österreichs (FWF grant P15037) and by the Austrian National Bank (OeNB).
Authors' Affiliations
(1)
Research Institute of Molecular Pathology, Vienna, Austria
Copyright
© BioMed Central Ltd 2003