Protein family review

Open Access
Toll-like receptors: a family of pattern-recognition receptors in mammals
Genome Biology
2002
3:reviews3011.1
Summary
The innate immune system uses a variety of germline-encoded pattern-recognition receptors that recognize conserved microbial structures or pathogen-associated molecular patterns, such as those that occur in the bacterial cell-wall components peptidoglycan and lipopolysaccharide. Recent studies have highlighted the importance of Toll-like receptors (TLRs) as a family of pattern-recognition receptors in mammals that can discriminate between chemically diverse classes of microbial products. First identified on the basis of sequence similarity with the Drosophila protein Toll, TLRs are members of an ancient superfamily of proteins, which includes related proteins in invertebrates and plants. TLRs activate innate immune defense reactions, such as the release of inflammatory cytokines, but increasing evidence supports an additional critical role for TLRs in orchestrating the development of adaptive immune responses. The sequence similarity between the intracellular domains of the TLRs and the mammalian interleukin-1 and interleukin-18 cytokine receptors reflects the use of a common intracellular signal-transduction cascade triggered by these receptor classes. But more recent findings have demonstrated that there are in fact TLR-specific signaling pathways and cellular responses. Thus, TLRs function as sentinels of the mammalian immune system that can discriminate between diverse pathogen-associated molecular patterns and then elicit pathogen-specific cellular immune responses.
Keywords
Respiratory Syncytial Virus
TLR4 Gene
Bacterial Lipoprotein
Adaptor Protein MyD88
Imidazoquinoline
Gene organization and evolutionary history
The
Drosophila
genome contains nine genes that encode Toll and related receptors (dToll1 - dToll9), whereas ten Toll-like receptor (TLR) genes have been identified in mice and humans [
1
,
2
,
3
,
4
,
5
,
6
]. The human and murine
TLR2
genes and the murine
TLR4
gene have two 5' non-coding exons followed by a third coding exon. In contrast, the human
TLR4
gene has an additional 5' non-coding exon [
7
]. Gene-mapping studies have revealed that TLR genes are dispersed throughout the mammalian genome. Specifically, human TLR genes reside on chromosomes 4 (
TLR1, TLR 2, TLR 3, TLR6
and
TLR10
), 9 (
TLR4
), 1 (
TLR5
), X (
TLR7
and
TLR8
) and 3 (
TLR9
; see Figure
1
). DNA sequence comparisons of genes encoding Toll-related proteins in
Drosophila
, reptiles, birds and in mammals have revealed that the genes are well conserved and have evolved independently from a common ancestor gene [
8
].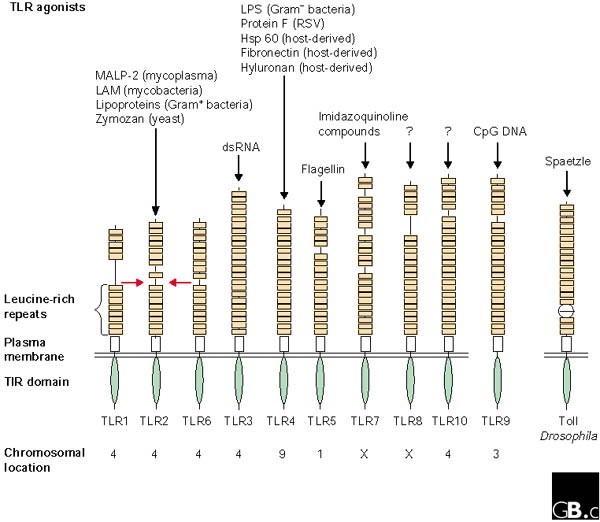 Characteristic structural features
As shown in Figure 1, TLRs are a family of type I transmembrane receptors characterized by an extracellular amino terminus. They have an amino-terminal leucine-rich repeat (LRR) domain and a carboxy-terminal intracellular tail containing a conserved region called the Toll/interleukin-1 receptor (TIR) homology domain. The extracellular domain contains a varying number of LRR domains, which are presumably involved in ligand binding but may also be necessary for TLR dimerization. The extracellular domain of TLR4 is highly polymorphic compared with the transmembrane and proximal cytoplasmic domains of the protein [9]. In addition, the extracellular domain of TLR4 contains an 82 amino-acid region that is highly variable and contributes to species-specific differences in recognition of lipopolysaccharide (LPS), the prototypic TLR4 ligand [10]. The intracellular TIR domain region spans over 200 amino acids and itself contains three highly conserved regions [11]. The TIR domain mediates protein-protein interactions between the TLRs and signal-transduction components (see the Signaling mechanism section); it is the defining motif of the TLR/interleukin-1 receptor superfamily, which includes the receptors for the cytokines interleukin (IL)-1 and IL-18 and is likely to be one of the earliest signaling domains to have evolved [8]. A TIR-like motif is also present in several plant receptors that are known to confer disease resistance [11], including the N protein, which conveys resistance to the tobacco mosaic virus, or the L6 flax rust resistance protein. Although the IL-1 receptor and TLRs have very different extracellular domains, their TIR domains allow both receptor types to activate similar signal-transduction pathways.
Localization and function
Frontiers
It is clear that engagement of TLRs activates a variety of inflammatory and innate immune responses in mammals. Ongoing efforts in many laboratories have led to the identification of TLR-specific signaling components and cellular responses, and more will be discovered in the future. It is also likely that TLRs work in combination with additional pattern-recognition receptors and co-receptors to add further diversity to their functions in vivo. How the host integrates the information that is signaled through TLRs and any co-receptors will ultimately control the progression of the immune response to pathogens. Understanding this process will undoubtedly lead to the development of novel therapeutics and immune adjuvants.
Authors' Affiliations
(1)
Pulmonary Center, Boston University School of Medicine, Boston, USA
Copyright
© BioMed Central Ltd 2002