Can mammalian cloning combined with embryonic stem cell technologies be used to treat human diseases?
Genome Biology
2002
3:reviews1023.1
Cloning is a mode of asexual reproduction in which all offspring have an identical nuclear genome to that of the parent. In recent years, mammalian cloning has been achieved by the introduction of somatic cell nuclei into fertilized eggs from which the zygotic nucleus has been removed. In our anthropocentric society, the recent success in animal cloning and its implications for humanity have captured the public's attention and imagination. But even though cloning has now been accomplished in several mammalian species, there are often severe complications associated with the procedure, and cloned animals are never quite the same as their parent. For instance, cloned embryos often exhibit developmental abnormalities, usually including excessive growth [1], referred to as large-offspring syndrome (LOS); in some cases, epigenetic aberrations have been reported, such as inappropriate X chromosome inactivation in cloned bovine fetuses and placentae [2]. Thus, only a very small proportion (less than 1%) of cloned mammals make it to birth. Many of the offspring that are born suffer from various defects, including obesity [3] and liver and immunological defects [4]; their chromosomes often have telomeres with variable lengths, possibly correlating with the donor cell type used for generating clones [5,6,7]. Either individually or in combination, these symptoms may drastically shorten the lifespan of clones. It is issues such as these that have raised considerable concern about the cloning procedure and highlighted our lack of understanding of the basic biology of cloning.
Mammalian cloning has far-reaching consequences, beyond the generation of cloned adults. One potentially powerful application of cloning technology is for the generation of cloned embryos that will never be implanted in a uterus - embryos that will not develop beyond a hundred or so cells but will be used to generate genetically matched, immunologically compatible (autologous) stem cells that can potentially differentiate in such a way as to replace damaged or diseased tissues or organs in an adult (see Box
1
for definitions of terms used). In light of the uncertainties and debate on the subject, a distinction must be made between cloning with the intent of generating live animals (reproductive cloning) and cloning in order to facilitate the derivation of stem cells from early embryos, which can ultimately be incorporated into therapeutic regimes. In this article, we will refer to the latter procedure as nuclear transplantation to produce stem cells, as suggested in the guidelines put forward by the US National Academies [
8
] after a workshop on human reproductive cloning held in August 2001. (It is also sometimes called therapeutic cloning or non-reproductive cloning.) Although there is a long way to go before nuclear transplantation to produce autologous stem cells becomes a reality for humans, several recent reports demonstrate that we are heading in this direction.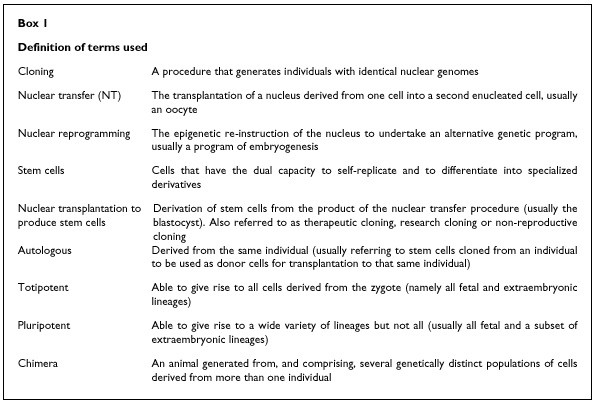 (1)
Department of Genetics and Development, College of Physicians and Surgeons of Columbia University, New York, NY 10032, USA
© BioMed Central Ltd 2002