Oxidative stress responses - what have genome-scale studies taught us?
Genome Biology
2002
3:reviews1019.1
Reactive oxygen species (ROS) such as superoxide (O
2
•
-
), hydrogen peroxide (H
2
O
2
), and the hydroxyl radical (OH•) are produced in all aerobic organisms within the cell and are normally in balance with antioxidant molecules. Oxidative stress occurs when this critical balance is disrupted because of depletion of antioxidants or excess accumulation of ROS (Figure
1
).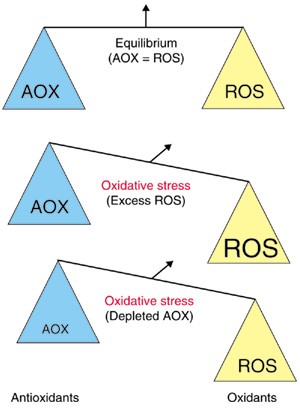 ROS were originally considered to be exclusively detrimental to cells, but it is now recognized that redox regulation involving ROS is key to the modulation of critical cellular functions (Figure
2
) [
1
]. Regardless of how or where they are generated, an increase in intracellular oxidants results in two very important effects: damage to various cell components and activation of specific signaling pathways, both of which influence numerous cellular processes leading to proper cell functions or to cell death [
1
]. Mounting evidence links oxidants and oxidative stress to a variety of human diseases and aging [
2
], as well as to senescence, impaired photosynthesis, and necrosis in plants [
1
]. On the other hand, there are clear examples of how ROS are put to constructive uses, the most powerful being the crucial role that O
2
•
-
plays against invading microbes, by serving as a broad-spectrum antibiotic [
3
]. Plants also mount a broad-range response to invading pathogens by a rapid and transient production of ROS via the 'oxidative burst' [
4
]. This article considers a number of recent genome-wide analyses of the response to ROS in bacteria, yeasts and
Arabidopsis
in the light of previous knowledge about oxidative stress responses.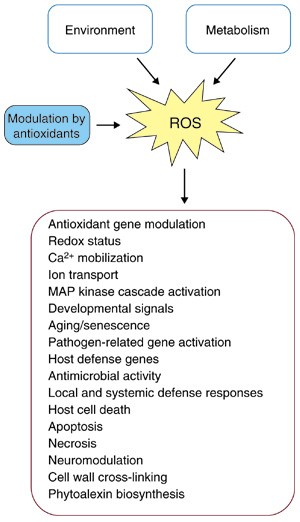 (1)
Department of Genetics, North Carolina State University, Raleigh, NC 27695-7614, USA
© BioMed Central Ltd 2002