Selection and gene duplication: a view from the genome
Genome Biology
2002
3:reviews1012.1
When a gene duplication event occurs, the duplicate genes have redundant functions. Many deleterious mutations may then be harmless, because even if one gene suffers a mutation, the redundant gene copy can provide a back-up function. Put differently, after gene duplication - which can arise through polyploidization (whole-genome duplication), non-homologous recombination, or through the action of retrotransposons - one or both duplicates should experience relaxed selective constraints that result in elevated rates of evolution. This hypothesis originated as least as early as Ohno's seminal book [1], which emphasized the importance of gene duplications in organismal evolution. But for decades any test of the hypothesis had to rely on small numbers of gene duplicates; doubts thus remained over whether conclusions derived from such case studies were representative of all genes in a genome. This changed with the availability of complete genome sequences from multiple organisms. Such sequence information can address not only this question but also many others related to the influence of selection on gene families. For instance, does one duplicate evolve faster and thus acquire new functions more rapidly than the other? How frequent are beneficial mutations that generate new and advantageous functions? And how frequent is gene conversion of duplicate genes, in which recombination and DNA repair between very similar genes convert the sequence of one to that of the other?
To address such questions, one can use nucleotide alignments of duplicates to calculate two key parameters of molecular evolution [
2
]: the fractions per nucleotide site, first, of synonymous (silent) nucleotide substitutions, and K
s
, second, of non-synonymous nucleotide substitutions (which change the encoded amino acid), K
a
(see Box
1
). The ratio K
a
/K
s
provides a measure of the selection pressure to which a gene pair is subject. If a duplicate gene pair shows a K
a
/K
s
ratio of about 1, that is, if amino-acid replacement substitutions occur at the same rate as synonymous substitutions, then few or no amino-acid replacement substitutions have been eliminated since the gene duplication. In other words, the duplicate genes are under few or no selective constraints. The gene pair is said to be under 'purifying selection' if K
a
/K
s
< 1: some replacement substitutions have been purged by natural selection, presumably because of their deleterious ratio is, the greater the effects. The smaller the K
a
/K
s
number of eliminated substitutions and the greater the selective constraint under which the two genes have evolved. The converse case, K
a
/K
s
> 1, indicates that replacement substitutions occur at a rate higher than expected by chance alone, so advantageous mutations have occurred in the evolution of the two duplicates.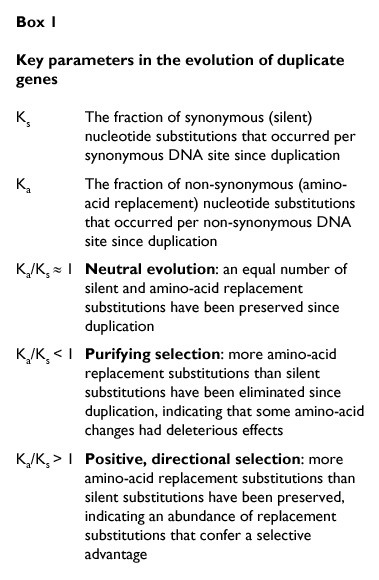 (1)
Department of Biology, University of New Mexico, 167A Castetter Hall, Albuquerque, NM 817131-1091, USA
© BioMed Central Ltd 2002