Integration of splicing, transport and translation to achieve mRNA quality control by the nonsense-mediated decay pathway
Genome Biology
2002
3:reviews1006.1
Published: 26 February 2002
Nonsense-mediated mRNA decay (NMD) is a specific RNA-degradation process by which eukaryotic cells can eliminate mRNAs that contain premature translation-termination codons (PTCs). Such mRNAs encode truncated polypeptides that could, when translated, exert dominant-negative effects; it is therefore advantageous to cells to minimize translation of these mRNAs. NMD has been found in yeast, plants, nematodes, flies and vertebrates [1].
There are several examples that illustrate the medical importance of NMD. Most of the mutations that introduce a PTC into the human β-globin mRNA cause a form of β-thalassemia that is recessive; heterozygous carriers of these mutations are thought to be protected by degradation of the mutant mRNAs via NMD. A mutation that escapes NMD is associated with dominant β-thalassemia, however [2]. Similarly, certain PTCs in the human ROR2 mRNA, which encodes an orphan receptor tyrosine kinase, fail to trigger NMD and cause a dominantly inherited form of brachydactyly type B [3]. Finally, in B and T lymphocytes, the somatic mutation and recombination events of the immune system frequently lead to the production of PTC-containing mRNAs. The NMD pathway is thought to prevent the expression of truncated immunoglobulin and T-cell-receptor polypeptides that would arise from such aberrant mRNAs [4].
Three proteins have been shown to be directly and specifically involved in NMD in Saccharomyces cerevisiae: Upf1p/Nam7p, Upf2p/Nmd2p and Upf3p (reviewed in [1,5]). Functional homologs of Upf1p, Upf2p and Upf3p have been described in humans and in other organisms, and the three Upf proteins can interact with each other [6,7,8,9,10]. Each of the mammalian Upf proteins has a characteristic subcellular localization. Human Upf1p (hUpf1p) is cytoplasmic and associated with polysomes [11]; most hUpf2p localizes to the nuclear periphery; and the two human Upf3p homologs (encoded by two genes, hUpf3a and hUpf3b) are shuttling proteins that are found predominantly in the nucleus [8,9,10]. The interaction of Upf1p with the translation-termination factors eRF1 and eRF3 [12] links NMD biochemically to the termination of translation.
A central question about the mechanism of NMD is how the cell distinguishes a premature from a normal stop codon (Figure
1
). Remarkably, the position of introns seems to play a critical role in metazoans: a PTC is functionally defined as an in-frame stop codon that is located at least 50 nucleotides upstream of the last exon-exon junction in a spliced mRNA (see Figure
1
; reviewed in [
13
,
14
]). Consequently, naturally intronless PTC-containing mRNAs are not usually destroyed by NMD [
15
,
16
], and transfection of PTC-containing cDNAs of human β globin yields 'NMD immune' mRNAs [
17
]. Furthermore, insertion of an intron more than 50 nucleotides downstream of a normal stop codon triggers NMD of an mRNA that in fact has an intact open reading frame [
18
,
19
]. As might be expected, it is unusual to find an intron in the 3' untranslated region of an mRNA. When such introns do occur, they are almost always positioned less than 50 nucleotides downstream of the stop codon [
20
]. These observations collectively support a model in which splicing deposits a 'mark' at or near exon-exon junctions and thus tags the position of excised introns for later 'inspection' by the translation machinery. In yeast, in which only few genes have introns, a downstream sequence element seems to serve as such a positional mark [
5
,
13
,
21
]. When the mRNA first passes through the ribosome, NMD is thought to be triggered when the mark is encountered downstream from the position of translation termination [
13
,
14
,
21
] (Figure
1
).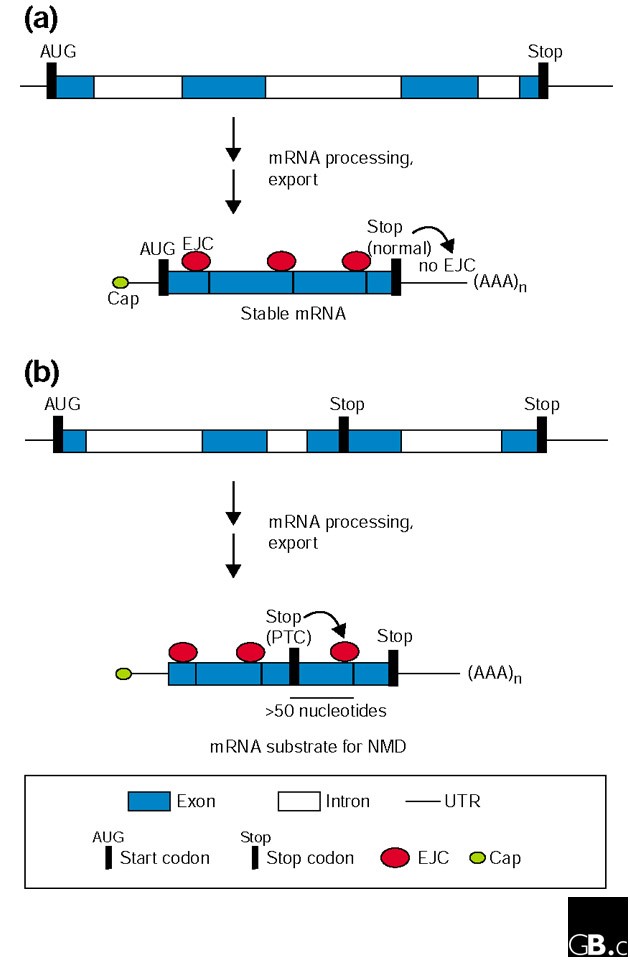 (1)
EMBL Heidelberg, Gene Expression Programme, Meyerhofstrasse 1, 69117, Heidelberg, Germany
(2)
Department of Pediatric Oncology, Hematology and Immunology, University of Heidelberg, Im Neuenheimer Feld 150, 69120 Heidelberg, Germany
(3)
Molecular Medicine Partnership Unit, EMBL/University of Heidelberg, Im Neuenheimer Feld 156, 69120 Heidelberg, Germany
© BioMed Central Ltd 2002