Being in the right location at the right time
Genome Biology
2001
2:reviews1024.1
Published: 29 August 2001
The spatial and temporal regulation of biochemical reactions in eukaryotic cells is achieved by a high degree of compartmentalization. Each protein is part of a functional biochemical network and all proteins within a particular network are at least once in their lifetime localized close to each other, within (or at) a particular organelle or compartment. This facilitates interactions and yet allows the segregation of different networks. Exchange of information between different organelles, and of proteins between networks, is essential for the proper function of the cell as an entity and is achieved by the active transport of material.
One of the best examples of such an assembly of networks is the secretory pathway. Secretory proteins move sequentially through the distinct membrane-bounded organelles of this pathway, receiving at each step specific enzymatic modifications necessary for their quality control and proper function. The communication and specific transfer of material between membrane organelles is mediated by distinct small membrane-bounded transport carrier vesicles containing a myriad of regulatory proteins. A key feature of any protein functionally involved in the secretory pathway is its permanent or transient localization to one of the appropriate transport carriers or organelles. Extending this concept to the whole cell, the determination of the subcellular localization of a novel protein is one of the essential steps in resolving its function. This includes imaging not only the protein's steady-state distribution but also the changes in localization that can occur in response to environmental conditions, during specific stages of the cell cycle or of cell differentiation. Indeed, changes in localization can also be caused by the breakdown of remote but functionally related organelles and/or cellular structures, such as Golgi fragmentation resulting from microtubule reorganization (see for example Figure
1c,d
).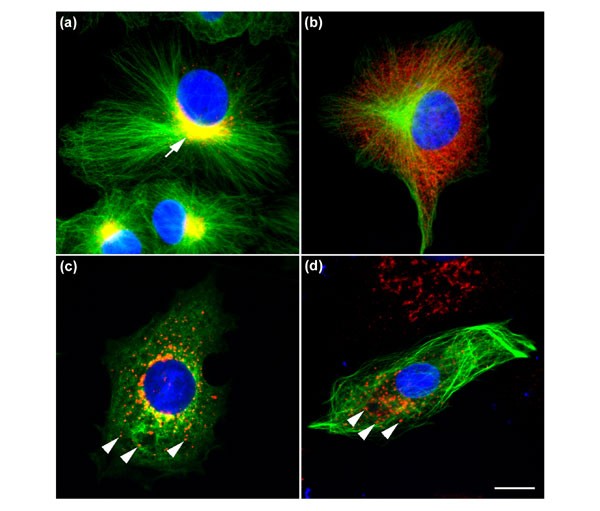 Although studies to follow these dynamic events have been a difficult task in the past, the availability of green fluorescent protein (GFP) and its spectral variants has now facilitated localization experiments particularly aimed at observing protein dynamics in living cells [1,2,3,4]. The cDNA encoding GFP was cloned several years ago and encodes a 27 kDa protein that emits green fluorescence when excited with blue light, without the need for any co-factors. Thus, any cDNA can be fused with the coding sequence of GFP, and the localization of the expressed GFP fusion can be followed in living cells. This unique feature of GFP has led to the development of a number of 'localization screening assays', which can be performed in a systematic 'high-throughput' manner as typically required for large-scale post-genome projects.
(1)
Department of Cell Biology and Biophysics, European Molecular Biology Laboratory Heidelberg, Meyerhofstrasse, 69117 Heidelberg, Germany
(2)
Molecular Genome Analysis, German Cancer Research Center, Im Neuenheimer Feld, 69120 Heidelberg, Germany
© BioMed Central Ltd 2001