The genome of Mycobacterium leprae: a minimal mycobacterial gene set
Genome Biology
2001
2:reviews1023.1
Mycobacterium leprae, 'Hansen's Bacillus', was the first human pathogenic bacterium to be identified, predating the discovery of the tubercle bacillus (Mycobacterium tuberculosis) by a decade. The genomes of both have now been decoded [1,2,3,4]. The genomes of other mycobacteria are also being sequenced, including those that cause opportunistic infections in people with AIDS (Mycobacterium avium) [5], bovine tuberculosis (Mycobacterium bovis) [6], and Johne's disease of cattle (Mycobacterium avium subsp. paratuberculosis) [7]. The sequencing of Mycobacterium smegmatis [5], the laboratory model strain used for studying mycobacterial physiology and genetics, and of the phylogenetically related Corynebacterium glutamicum [5] and Corynebacterium diphtheriae [8], are also under way. Although clinical aspects of the virulent mycobacterial strains vary, they are all intracellular pathogens that are transmitted by the respiratory route and occupy macrophages as their preferred niche [9]. A number of antibodies crossreact amongst these bacterial species, indicating similarities in protein composition, and the basic cell-wall architecture is the same [10]. Thus, comparative genomics is a useful tool for identifying common and divergent pathways.
Cole
et al.
[
1
,
3
] have found that, compared to the
M. tuberculosis H37Rv
genome of 4,411,529 base-pairs (bp), which can potentially encode 3,924 genes [
3
], the
M. leprae
genome of 3,268,203 bp encodes only 1,604 proteins and contains 1,116 pseudogenes [
1
]. They have annotated and classified all these genes into various functional categories. Figure
1
depicts this drastic gene reduction and decay in
M. leprae
compared to
M. tuberculosis,
which affects nearly every aspect of metabolism.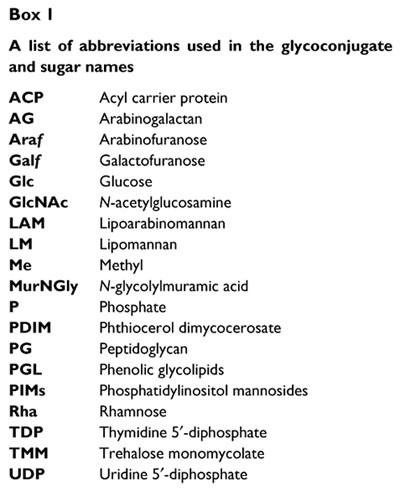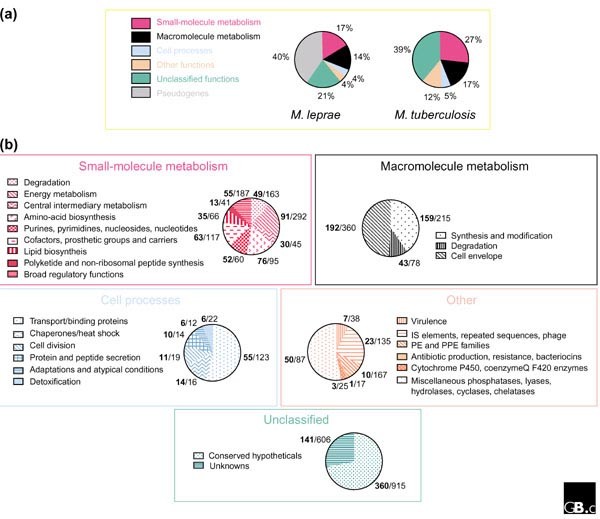 Despite numerous experiments that demonstrated metabolic activity by labeling macromolecules such as phenolic glycolipid (PGL)-I, proteins, nucleic acids and lipids with radioactive precursors in bacteriological media or in macrophages infected with host-derived M. leprae, multiplication of M. leprae cells has not been achieved. The only sources of M. leprae are tissues from infected humans, armadillos or mouse footpads [11]. The failure to grow M. leprae cells in vitro may result from the combined effects of gene reduction and mutations in several metabolic areas (Figure 1b). Mutations are found in genes involved in regulation (encoding repressers, activators, two-component systems, serine-threonine kinases and phosphatases), detoxification (genes encoding peroxidases), DNA repair (the mutT, dnaQ, alkA, dinX, and dinP genes) and transport or efflux of metabolites such as amino acids (arginine, ornithine, D-alanine, D-serine and glycine), peptides, cations (magnesium, nickel, mercury, ammonium, ferrous and ferric ions and potassium), and anions (arsenate, sulfate and phosphate). In general, pseudogenes are found more frequently in degradative, rather than synthetic, pathways. Genes for the synthesis of most small molecules, such as amino acids, purines, pyrimidines and fatty acids, and for the synthesis of macro-molecules such as ribosomes, aminoacyl tRNAs, RNA and proteins, are reasonably intact.
In terms of gene reduction, there are fewer genes in almost every category, but notably affected are insertion sequences (IS) and the acidic, glycine-rich families of proteins that have proline-glutamic acid (PE) or proline-proline-glutamic acid (PPE) motifs at the amino terminus; these proteins may confer antigenic variation. Repressors, activators, oxidoreductases and oxygenases are also affected. Thus, while preserving genes required for its transmission, establishment and survival in the host, M. leprae has discarded genes that can be compensated for by a host-dependent parasitic lifestyle. Analysis of the M. leprae genome therefore provides a useful paradigm for all mycobacteria, because of its smaller genome size, obligate intracellularism, and limited complement of genes. The availability of several completely or partially sequenced mycobacterial genomes allows us to dissect the genetics of conserved and dissimilar pathways, such as those for cell-wall biosynthesis.
(1)
Department of Microbiology, Colorado State University, Fort Collins, CO 80523, USA
© BioMed Central Ltd 2001