Nucleomorph genomes: much ado about practically nothing
Genome Biology
2001
2:reviews1022.1
It may surprise many that the sixth eukaryotic genome to be sequenced comes not from some familiar model organism but from a nucleus whose DNA content is less than that of most bacteria [
1
]. This nucleus comes from
Guillardia theta,
a member of a group of biflagellate protists called cryptomonads (Figure
1
). The tiny nucleus, called a nucleomorph, is not the main cellular nucleus but is the residual nucleus of a red algal endosymbiont that resides inside the endoplasmic reticulum (ER) of its host cell (Figure
1
) [
2
]. Another group of protists, called chlorarachniophytes, also have nucleomorphs, and these are the remnant nuclei of green algal endosymbionts (Figure
1
) [
3
,
4
]. Both protist groups are believed to have acquired their endosymbionts about 600 million years ago [
5
] when, instead of digesting their algal-prey meals as they would normally do, the host cells retained the algae, to feed the heterotrophic host cell with carbohydrates made by the algal chloroplast. Over time the algae and hosts became interdependent and the algae lost their autonomy, becoming highly streamlined for photosynthesis. Most of the trappings normally found in a eukaryotic cell, such as mitochondria, endoplasmic reticulum and flagella, have been entirely lost from the endosymbionts. All that is left is a prominent double-membrane-bound chloroplast surrounded by a small volume of cytoplasm (called the periplastidal space), in which resides the diminutive nucleomorph (Figure
1
). A relic plasma membrane still envelops the alga that is in turn surrounded by a modified food vacuole in chlorarachniophytes or by the host cell's ER in cryptomonads [
6
]. The chloroplast is, in effect, bound by four membranes (Figure
1
).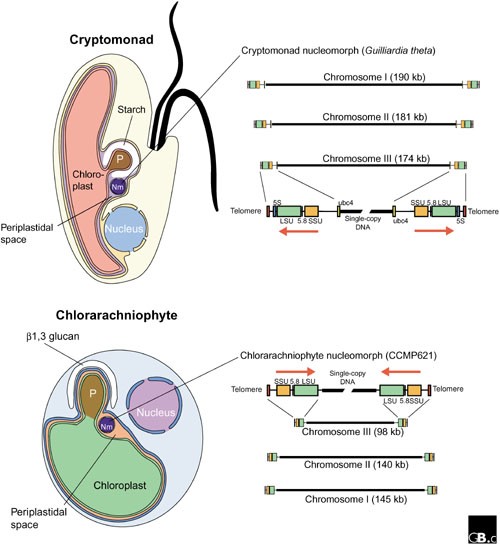 The primary chloroplasts of red algae, glaucophytes, green algae and plants are bound by two membranes and are derived from cyanobacterial endosymbionts, but chloroplasts bound by three or four membranes are also common [7]. These so-called 'multi-membraned' or 'complex' plastids are derived from engulfed algae but, unlike the chloroplasts of cryptomonads and chlorarachniophytes, they have completely lost their nuclei: presumably, the nuclei went through a nucleomorph-like stage as redundant genes were lost and essential genes were transferred to the nucleus of the host cell. Algae that contain complex chloroplasts - for example, diatoms, dinoflagellates and coccolithophorids - are amongst the most prolific photosynthesizers on earth, and study of nucleomorphs may offer important insights into how these algae acquired their chloroplasts and then went on ultimately to lose their nucleomorphs. Projects to sequence the nucleomorph genomes of cryptomonads and chlorarachniophytes therefore began several years ago [8], and the cryptomonad nucleomorph genome sequence was recently completed [1].
(1)
Centre for Cellular and Molecular Biology, School of Biological and Chemical Sciences, Deakin University, Victoria, 3125, Australia
© BioMed Central Ltd 2001