Endogenous retroviruses in the human genome sequence
Genome Biology
2001
2:reviews1017.1
One of the many striking findings to come from the sequencing of the human genome is that some 45% of our DNA is composed of transposable elements such as LINE and Alu retroelements and DNA transposons [
1
,
2
,
3
]. Around 8% of the genome is derived from sequences with similarity to infectious retroviruses, which can be easily recognized because all infectious retroviruses contain at least three genes, including
gag
(encoding structural proteins),
pol
(viral enzymes), and
env
(surface envelope proteins), as well as long terminal repeats (LTRs; see Figure
1
). The existence of human endogenous retroviruses (HERVs) has been known for many years [
4
], but their abundance in the genome was not predicted by earlier studies. HERVs represent the remnants of ancestral retroviral infections that became fixed in the germline DNA. Subsequent retrotransposition events amplified these sequences to a high load within the genome. The drafts of the human genome have provided a wealth of information about the abundance and distribution of HERVs, and several new subtypes have been identified [
5
]. This sequence information can now be used for the design of novel experimental strategies to investigate the biological functions of HERVs. This article briefly reviews the evolution and abundance of HERVs and the available evidence for their function in both normal and pathological processes.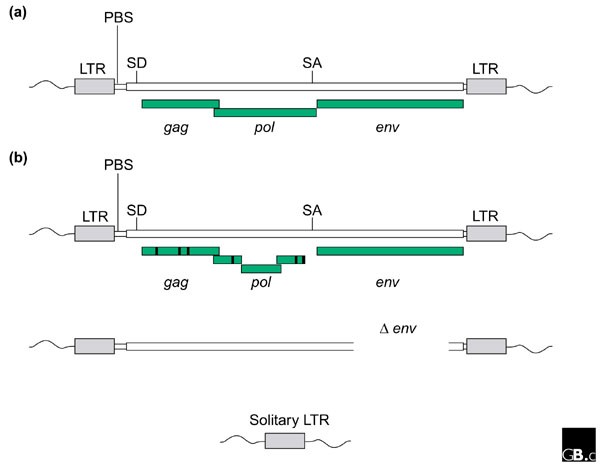 HERVs have been grouped into three broad classes - I, II and III - on the basis of sequence similarity to different genera of infectious retroviruses. Each class has a number of subgroups, many of which are named according to an older system of HERV nomenclature based on the specificity of the tRNA primer-binding site (Figure 1). Class I HERVs are related to gammaretroviruses such as murine leukemia virus (MLV); class I includes HERV-W and HERV-H, among many other subgroups. Class II HERVs are related to betaretroviruses such as mouse mammary tumor virus and include several types of HERV-K element. Class III HERVs are distantly related to spumaretroviruses and include HERV-L and HERV-S.
Like other transposable elements, HERVs are thought to have played an important role in the evolution of mammalian genomes, and the human genome sequence has already been of use in phylogenetic studies of HERVs. By analyzing HERV integration sites, the evolution of these elements has been tracked through the primate lineage. Measurement of the divergence of LTR sequences has also been used as a 'molecular clock' to estimate the age of HERVs (given that the LTRs are identical at the time of integration) [5]. Class I and class III HERVs are the oldest groups and are present throughout the primate lineage, while class II includes HERVs that have been active most recently. Many class II loci are restricted to chimpanzees and humans and a few proviruses of the HERV-K(HLM-2) subgroup are human-specific [6], indicating that these viruses have been active within the last 5 million years.
(1)
Wohl Virion Centre, Department of Immunology and Molecular Pathology, Windeyer Institute of Medical Sciences, University College London, Cleveland Street, London, W1T 4JF, UK
© BioMed Central Ltd 2001