Characterizing glycosylation pathways
Genome Biology
2001
2:reviews0004.1
The surface of a mammalian cell is decorated with complex carbohydrates. These sugars, known individually as glycans and collectively as the glycocalyx, are biosynthetically assembled from simple monosaccharides into a diverse array of oligo- and poly-saccharides (Figure
1
). Glycans mediate a cell's communications with the outside world [
1
,
2
] and play a crucial role in the events at fertilization that initiate the life of a multicellular organism [
3
]. Carbohydrates continue to play a critical role throughout development and contribute to the healthy life of the mature organism [
4
,
5
]. Abnormalities in glycan expression are implicated as causative or incidental factors in both relatively rare congenital diseases [
6
] and widespread acquired diseases, such as cancer [
7
]. The recent revelation that fewer genes than originally thought comprise the human genome has further highlighted the importance of post-translational modifications, such as glycosylation, as determinants of higher eukaryotic functions [
8
,
9
].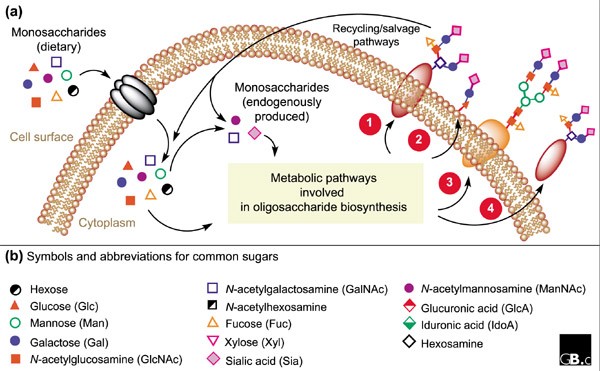 Deciphering the molecular details of oligosaccharide synthesis and biological activity is one of the major challenges now confronting the cell biologist. Unlike other structural biomolecules such as proteins and nucleic acids, synthesis of which is template-driven and well defined at a molecular level, oligosaccharides are not primary gene products [10]. An understanding of their biosynthesis remains rudimentary. This review briefly describes current understanding of glycan biosynthesis and the methods that have been used to garner this information. It then addresses the exciting prospects that emerging genomic and metabolic techniques, coupled with established methodologies, offer for rapid discovery of the glycosylation processes of a cell.
(1)
Department of Chemistry, University of California, Berkeley, CA 94720, USA
(2)
Department of Molecular and Cell Biology, University of California, Berkeley, CA 94720, USA
(3)
Center for Advanced Materials, Materials Sciences Division, Lawrence Berkeley National Laboratory, Berkeley, CA 94720, USA
(4)
Howard Hughes Medical Institute, Berkeley, CA 94720, USA
(5)
Present address: Department of Biomedical Engineering, G.W.C. Whiting School of Engineering, Johns Hopkins University, Baltimore, MD 21218, USA
© BioMed Central Ltd 2001