Protein family review
Open Access
The netrin protein family
Published: 29 September 2009
Summary
The name netrin is derived from the Sanskrit Netr, meaning 'guide'. Netrins are a family of extracellular proteins that direct cell and axon migration during embryogenesis. Three secreted netrins (netrins 1, 3 and 4), and two glycosylphosphatidylinositol (GPI)-anchored membrane proteins, netrins G1 and G2, have been identified in mammals. The secreted netrins are bifunctional, acting as attractants for some cell types and repellents for others. Receptors for the secreted netrins include the Deleted in Colorectal Cancer (DCC) family, the Down's syndrome cell adhesion molecule (DSCAM), and the UNC-5 homolog family: Unc5A, B, C and D in mammals. Netrin Gs do not appear to interact with these receptors, but regulate synaptic interactions between neurons by binding to the transmembrane netrin G ligands NGL1 and 2. The chemotropic function of secreted netrins has been best characterized with regard to axon guidance during the development of the nervous system. Extending axons are tipped by a flattened, membranous structure called the growth cone. Multiple extracellular guidance cues direct axonal growth cones to their ultimate targets where synapses form. Such cues can be locally derived (short-range), or can be secreted diffusible cues that allow target cells to signal axons from a distance (long-range). The secreted netrins function as short-range and long-range guidance cues in different circumstances. In addition to directing cell migration, functional roles for netrins have been identified in the regulation of cell adhesion, the maturation of cell morphology, cell survival and tumorigenesis.
Keywords
Floor PlateVentral MidlineNetrinNeogeninLateral Olfactory Tract
Gene organization and evolutionary history
UNC-6, the first reported netrin, was identified in the nematode worm
Caenorhabditis elegans
in a screen for proteins that regulate neural development [
1
]. It is now clear that netrins have a highly conserved function in bilaterally symmetric animals, directing axons toward the ventral midline of the developing nervous system during embryogenesis. Orthologs of the secreted netrin UNC-6 have since been identified in invertebrates other than
C. elegans
, such as
Drosophila melanogaster
(Netrin A and Netrin B) [
2
], and the leech (Netrin) [
3
] (Figure
1a
). Notably, a secreted netrin (NvNetrin) has been identified in the sea anemone
Nematostella vectensis
, an animal that exhibits some of the earliest hallmarks of bilateral symmetry [
4
]. Vertebrates express multiple netrin genes. In mammals, expression of five netrins has been identified (netrins 1, 3, 4, G1 and G2). Netrins 1 to 4 are secreted, whereas netrins G1 and G2 are tethered to the plasma membrane by carboxy-terminal glycosylphosphatidylinositol (GPI) tails [
5
,
6
]. Netrin Gs are thought to have evolved independently of netrins 1, 2 and 3 [
5
]. Orthologs of the netrin Gs have been identified only in vertebrate species. All netrins characterized so far in invertebrates, including
C. elegans
UNC-6, are secreted proteins.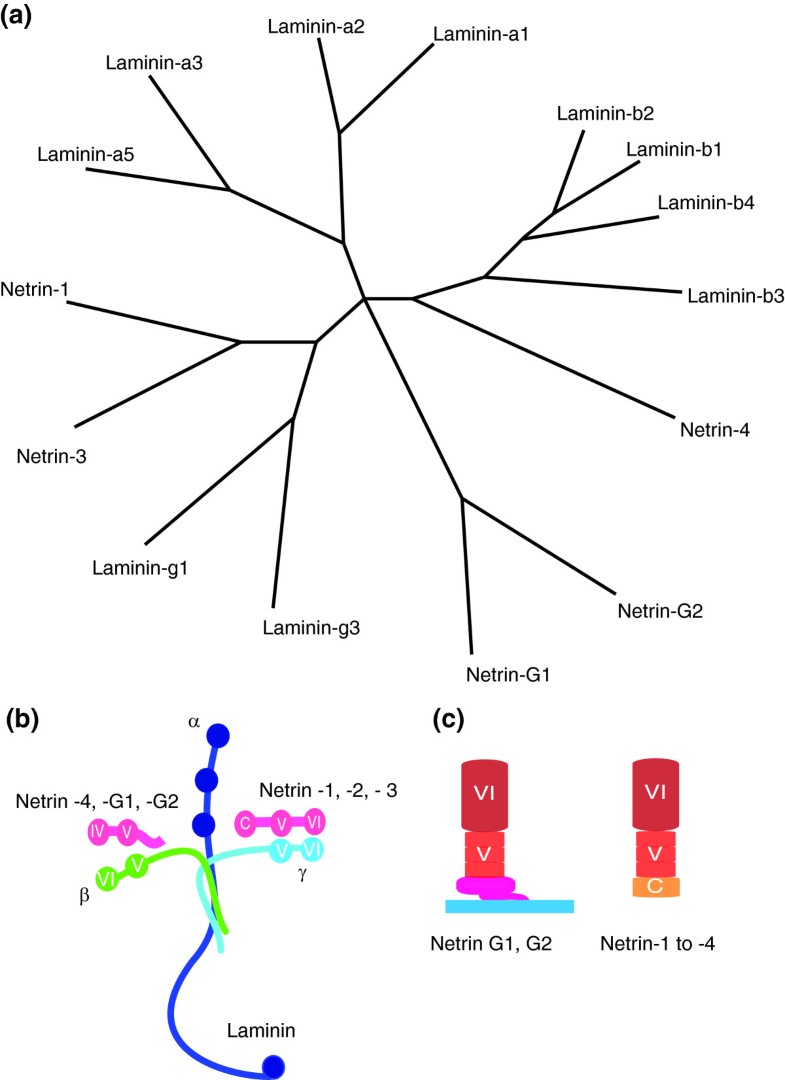 All netrins are members of the laminin superfamily (Figure 1a). The sequence of the amino-terminal two-thirds of netrin 1, 2 and 3 is most similar to amino-terminal sequences found in the laminin-γ1 chain [7, 8], whereas the amino-terminal domains of netrins G1, G2 and 4 are most similar to the amino terminus of the laminin-β1 chain (Figure 1b, c) [5, 6, 9]. In heterotrimers of laminin-α, -γ, and -β chains these amino-terminal domains mediate self-assembly, leading to the formation of complex laminin networks [10]. Netrin 4 integrates into basement membranes through interaction of its amino-terminal domains with laminins [11]; however, other secreted netrins do not seem to bind laminins in extracellular matrix (ECM).
Characteristic structural features
On the basis of their homology with laminin amino-terminal domains, the amino-terminal netrin domains were named VI and V. Domain VI, at the amino terminus, is globular. It is followed by domain V, which is composed of three epidermal growth factor (EGF) repeats (Figure 1b, c). Domains VI and V bind to the Deleted in Colorectal Cancer (DCC) and UNC-5 families of netrin 1 receptors; however, the precise molecular details of the interaction have not been determined. The remaining carboxy-terminal sequence of netrins 1 to 4 (the C-domain) is enriched in basic amino acids [7–9]. This sequence binds heparin with high affinity, and may contribute to presenting secreted netrins on cell surfaces or retaining them in ECM through interactions with heparin sulfate proteoglycans (HSPGs) [12].
The C-domain of netrin 1, also known as the netrin-like (NTR) module, is homologous to similar domains found in a disparate group of proteins that have diverse biological functions. So far, the NTR module has been identified in complement proteins C3, C4 and C5, which are components of the innate immune system, in secreted Frizzled-related proteins that are involved in axon guidance, in the type I procollagen C-proteinase enhancer proteins (PCOLCE), which are metalloproteinase inhibitors, and in tissue inhibitors of metalloproteinases [13]. The functional significance of the NTR module is unknown in netrin and poorly understood in other proteins, but structural and functional data suggest an inhibitory activity towards proteinases [14–16]. The C-domain of secreted netrins (netrins 1 to 4) is not required for binding to DCC or the UNC-5 homologs [17–19]. Deletion of the UNC-6 C-domain generates axon-guidance defects in C. elegans, but these are relatively mild compared to the effects of complete loss of UNC-6 function [20].
Localization and function
Frontiers
Members of the netrin family are essential chemotropic guidance cues that direct cell and axon migration in the developing nervous system during embryogenesis. The significance of this function is particularly evident with regard to axon migration toward and away from the floor plate, a major source of netrin 1 located at the ventral midline of the neural tube. While directing commissure formation has been a major focus of the study of netrin function, it is now clear that netrin family members also play key roles in directing the formation of neural circuits other than guiding axons relative to the midline in the developing CNS. The concept that gradients of netrin protein direct migration during development is now well established, and netrin receptors and intracellular signaling mechanisms mediating the chemotropic response have been identified. Current studies are addressing the functional significance of the recently identified netrin 1 receptor DSCAM. Determining how DSCAM interacts with and influences the function of the canonical families of netrin receptors, the DCC and UNC-5 family members, is a major goal. Ongoing studies aim to develop a complete understanding of the biochemical mechanisms that convert a gradient of extracellular netrin protein into directed cell movement.
Studies of netrin function in the nervous system and in non-neural tissues have revealed important contributions of netrins in regulating cell-cell adhesion and tissue organization. In some cases, cells that initially migrated in response to a source of netrin subsequently require netrin to regulate appropriate cell-cell interactions. It remains to be determined how the signaling mechanisms that direct the motility of these cells switch during maturation to subsequently regulate the organization of cell-cell adhesive contacts. Leaving embryogenesis and entering the realm of tissue repair, exciting findings have implicated netrin 1 in directing adult neural stem-cell migration, suggesting that netrin 1 may influence recovery following injury.
Authors' Affiliations
(1)
Montreal Neurological Institute, Department of Neurology and Neurosurgery, McGill University, Montreal, Canada
Copyright
© BioMed Central Ltd 2009